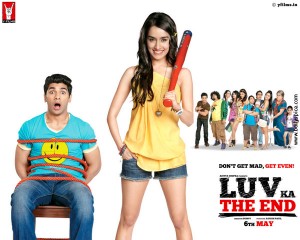 Yash Raj Films introduced Bollywood to youth films with a vision to make films for the youth, of the youth, by the youth. Within just a span of one year, Y-Films became the defining launch pad for fresh talent. The studio has put up over 32 names of directors, actors, music composers, assistant directors, editors, DOPs, writers, costume designers, animators on the silver screen. But, having said that, these were not straight- outta-college newbies. Most of the talent launched has been around, assisting reputed technicians or making their mark in the advertising or television space for quite a while. What Y-Films gave them was a fabulous platform. And each of them now has a film to their credit. That too in a Yash Raj film!
Luv Ka The End, a story of revenge and girl power where a spurned lover took down her cheating boyfriend, starring Shraddha Kapoor saw as many as sixteen debuts across various departments. And Mujhse Fraaandship Karoge, India's first Facebook love story, had an all new star cast along with a minimum of 12 debuts behind the camera.
One of the biggest debuts on Luv Ka The End was the director, Bumpy, who is popularly known for his MTV show, Roadies. His superbly talented colleagues from MTV, DOP, Adil Afsar and editor, Saurabh Kulkarni also made their debuts in the film. Mujhse Fraaandship Karoge gave one of India's biggest desi-rock artists, Raghu Dixit, the opportunity to reach out to the masses with his native sound. He scored the music and the background score for Mujhse Fraaandship Karoge. And Nupur Asthana, famous for her cult television shows, Hip Hip Hurray and Mahi Way showed us what love in the times of Facebook is all about. On the acting front, MFK's lead actor, Saqib Saleem has been hailed by some critics as the find of the year, while supporting cast from both the films have gone on to star in other films and advertising commercials.
Y-Films promises to bombard Bollywood with more such talent in the coming year. No, actually, it's more of a resolution!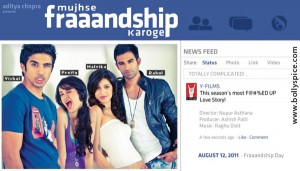 Newcomers
1. Saqib Saleem – played the mischievous Vishal, lead of the film, hailed by many as the find of the year
2. Nishant Dahiya – played the super cool rockstar, Rahul in the film, has been a Graviera Mr. India runner up and seen in a series of popular advertisements including Fast Track and more
3. Tara D'Souza – was also seen in YRF's Mere Brother ki Dulhan opposite Ali Zafar, played the very hot Malvika
4. Saba Azad – the super talented girl has her own band, sings like a dream, produced, directed, acted and staged her own theatre production titled "Love Puke" recently and played Preity
5. Prabal Panjabi – recently seen as a lead on a stage production titled "Cock", played the naughty Hacky and was loved by all
6. Director – Bumpy [used to head show production at MTV, and direct the very popular Roadies]
7. Producer – Ashish Patil
8. Errol Marks – played Gollu, been seen in a variety of advertisements and recently starred in a play
9. Meherzan Mazda – played Timmy, has been seen in a series of popular TV commercials and also acted in YRF's TV series Seven on Sony TV as one of the leads
10. Pushtiie Shakti – the very talented lead of Mahi Way, played Jugs
11. Sreejita – also known for her acting prowess on a popular TV series on Star One
12. Taaha Shah – played Luv Nanda, the menacing bad boy and negative lead of the film, recently also in seen in a Honda Brio commercial
13. Director – Nupur [has directed some of the most popular TV shows in the youth space including cult series like Hip Hip Hurray and Mahi Way]
14. Music – Raghu Dixit [one of India's most popular indie musicians, folk rock, recently topped the iTunes World Chart. Also has his own band, The Raghu Dixit Project]