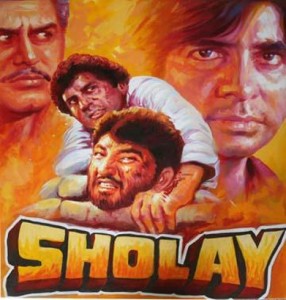 Yes, there's no need to re-read the title – you read it right! One of the most (if not the) most influential film in Bollywood Ramesh Sippy's Sholay is all set to hit cinema screens and all of the action and drama from the 1975 blockbuster, can now be relived in 2013 in glorious technicolour 3D!
Of course it's all good and well us at BollySpice telling you, but what would the cast have to say about that? Does the 3D Sholay retain its original appeal? Legendary actor Dharmendra (who played Veeru) tells us: "I've seen portion of the film and it has turned out very well. The colours and the sound, such as the trotting of the horses and the sound of the bullets have come out wonderfully. I think people will love the film."
A source close to the making of this wonderful film in 3D reveals all! "The poster design is unique too, showing Dharmendra and Amitabh Bachchan on their favourite bike wearing 3D specs. There are other innovative ideas being worked upon the publicity design too.
The purpose of converting Sholay in 3D is to let the current generation know what a classic it was and why its success could never be matched."
The source further added "150 technicians worked tirelessly over a year for the 3D Sholay!" We're betting that Sholay in 3D will have a huge success, but only time will tell if the 3D version will be as popular as it's predecessor!