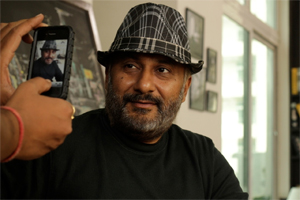 Vivek Agnihotri has been associated with 'unusual' in cinema and television both. His television show 'Aarohan' dealt with the Indian Navy and he had shot it at actual locations, which was something new for TV medium. His other shows like 'Yeh Kahan Aa Gaye Hum', and his stand-alone stories on shows like 'Gubbare', 'Saturday Suspense', 'X-Zone', 'Rishtey' & 'Neha – Mini Series' created their own genre. His earlier two films Goal and Chocolate, too were very different in their treatment and subject. His forthcoming film is Hate Story and with the star cast of Nikhil Dwivedi, Paoli Dam and Gulshan Devaiah, it is already creating major ripples in the industry with first look and promo. In conversation with this ingenious story teller.
How did you get the invitation to direct Hate Story, a film written by Vikram Bhatt?
Vikram had written this very bold and gripping script. One day I got a call from him asking to look at this script. The first thing I asked him 'Why me?', as he is an accomplished director himself. He felt that the film has become very bold and we need to raise the bar. And for that he wanted a stylish, gutsy and matured director. I considered it for some time, as erotica is a tricky and delicate genre. And I had just finished shooting a cerebral 'Art House' cinema Buddha In a Traffic Jam with 570 future CEO's of India. Then I said why am I scared of erotica. Let's make erotica the way a French director would approach it. I was very clear that I was not interested in making a titillating movie. So I told him that if we have to make this film we must not hold ourselves in any which way. He said an instant yes and we were on.
What was your biggest challenges with the story of this film?
Honestly, I had never thought about making an erotica. So, first challenge was to understand the genre. And make a list of what not to do. My bigger challenge was to find actors who could be so uninhibited, so we could make it the way it should be made. It also meant that the actors should be able to stand naked and give such performance that body becomes secondary. I was lucky to find that in super talented Paoli Dam and Gulshan Devaiah.
Your movie poster got 22 lakh views within 8 hours on just one website alone. Comment?
That was overwhelming. In fact the trailer got a record over one lakh views in less than 24 hours.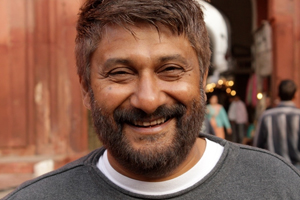 The poster is projecting adult fantasy and you have been claiming it to be the first ever real erotica film made in Bollywood. Do you foresee any problem from censor board?
See, if you are scared of censor or moral police I'd advise not to make it. A scared, calculating mind can never make an honest film. All I can say is that I have never been and never will be scared.
Why did you opt for Paoli Dam as your lead? Why did you not think to take an established Bollywood actress?
I know that she is a good actor. But when I met her first I asked her if she would stand naked in front of camera and without blinking her eyes, she said yes. And she was on. Paoli is a gifted actor. She is so talented that every scene with her finds value addition. Also, she is known for her boldness and comes with no inhibition. Normally when you shoot any sex scene we get the crew out of the sets. But in our case we shot all sex scenes with full crew on sets like we would shoot any other scene.
In your earlier film there was a Bengali influence wherein your leading ladies have been Bengali. Bipasha Basu (Goal), Tanushree Dutta (Chocolate) and now Paoli Dam. What is it that draws you to Bengal?
Yes, I am fascinated by Bengali girls. Bengali girls have eyes like Kaali and that exudes power.
Do you think that India is now ready for real erotica? Are we not little ahead of time about the subject of the film?
We were always ready. We have written Kamasutra. Our mythology, art and music has so much erotica in it. Have you read Kalidasa's Meghdootam or Ritusamhar? Read Ghalib. Its only recently that a scared government and vote-bank politicians have made mockery of freedom that we have started finding indirect and tittilating ways. Also, I think censor board also helped create such hypocritical ways of coming to the subject of eroticism.
Any particular scene that required last minute changes or alterations?
Not really except that Nikhil Dwivedi fell and broke his arm and we had to reschedule.
What's next?
Buddha In a Traffic Jam is a very personal and intimate film, which I am releasing next. It's about intellectual terrorism – a subject never raised before in India.
Check out a couple of stills from Vivek's upcoming film Hate Story: