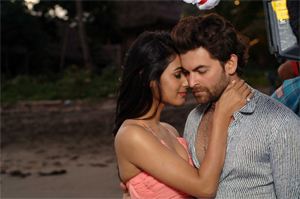 With just a few days to go for the release, 3G has launched a brand new song titled 'Bulbulyan'. The buzz around the movie is growing every day and the team has got the timing of the song spot on. Starring Neil Nitin Mukesh & Sonal Chauhan, the movie is produced by Eros International and Next Gen Films.
Bulbulyan is a slow track with a lot of soul in it. Sung in the melodious voice of Adnan Sami, the enticing track is soothing to the ear and manages to leave a mark. Mithoon's composition and background score blends well with the vocals giving a brilliant feel to the song. Staying true to the theme of the song – 'the end is near'; the song is the true representation of the dilemma the lead pair is in.
'Bulbulyan' also carries forwards the mystery the trailer had generated. Directed by Shantanu Ray and Sheershak Anand, the movie is a nightmarish story about Sam Arora (Neil Nitin Mukesh) and Sheena (Sonal Chauhan), a couple, who become victims of a series of events when Sam buys a 3G enabled second hand phone in Fiji islands while on a holiday. The movie is all set to hit the silver screen on 15th March.
Check out the song here – http://bit.ly/Bulbulyan-3G