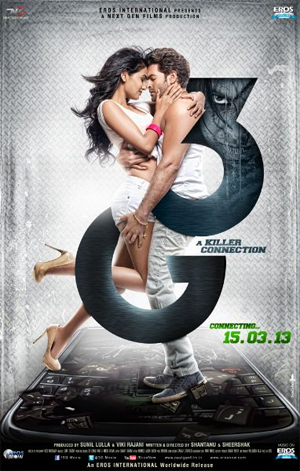 3G will see Neil Nitin Mukesh and Sonal Chauhan being paired up for this exciting upcoming thriller. It has been directed by Sheershank Anand and Shantanu Ray Chhibber and will release in cinemas on 15 March 2013. According to its synopsis, the film is based on a couple named Sam (Mukesh) and Sheena (Chauhan). They are both victims of a series of events after Sam purchases an odd 3G enabled second-hand phone during a holiday to the Fiji Islands. The music to this film has been composed by Mithoon, who has also produced soundtracks to films such as Jism 2 (2012) and Murder 2 (2011). The lyrics have been written by Mithoon, Shellee and Sonu Kakkar. So is 3G an album that is worth listening to? Read on to discover our verdict!
The first track is Khalbali which is sung by Arjit Singh, Shilpa Rao and Tochi Raina. In simple words, I really, really love this song! It's upbeat, full of western and eastern elements and will definitely rise in popularity. The vocals are also remarkable and they complement incredibly well with the composition. Overall, this is a tune which you should not miss out on hearing. There is also a Punjabi version sung by Tochi Raina. Although Raina sings it flawlessly, I prefer the Hindi version since I am not a strong follower of the Punjabi language. However, anyone who loves Punjab-oriented songs should by all means give this one a whirl!
There is also Kaise Bataoon, which is performed by KK and Sonal Chauhan. This song has no Indian flavours whatsoever other than the fact that it is sung in Hindi. However, I found this one to be refreshing, which contains nice western samples and some truly passionate vocals from KK and Chauhan. Don't miss out on this splendid track! In addition, there is a Cantabile Version sung by Abhishek Nailwal. I did find this to be a unique interpretation of the original version and it has been melodiously sung by Nailwal and the chorus gang. However, I personally found the original version to more appealing and catchy. This version is more of a one-time listen in my opinion.
Next up we have Bulbulliya, sung by the magnificent Adnan Sami and Gajendra Verma. The music composition contains unusual Middle Eastern sounds, which sort of takes me back to 'Mashallah' from Ek Tha Tiger (2012). Although Adnan delivers a soulful performance, I would classify this as an average track. Had it been more of an upbeat track, then perhaps I will have a different opinion of it. Overall, it is the weakest track in the album, despite the fact that there are some good moments in the song.
Finally there is an instrumental theme in the album titled 3G Theme, which has been produced by Amar Mohile. It is no doubt obvious that this has been devised for particular scenes in the film. It is a fast-paced track and you can hear instruments such as the violin, piano and drums. It is a nicely composed instrumental, but will only appeal to those who end up being huge fans of the film after having viewed it.
To sum up, 3G is an album which will certainly appeal to the youths, and tracks such as 'Khalbali' and 'Kaise Bataaon' validate this notion. Though it is short in length, Mithoon deserves praise for whipping up a tasty album that is full of flavour. It could have been even better had there been more songs included in the album. However, I consider this album to be a good effort on Mithoon's part and hence recommend that you check it out!