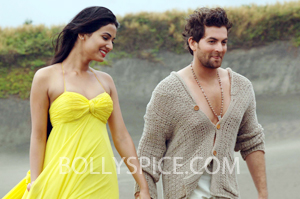 Often we have heard producers and directors running from one office to another to seek permissions which allow them to shoot in a particular location. The cast and crew of the upcoming film 3G had a rather unique experience, all they had to do was chat and have a traditional drink to shoot at the exotic islands of Fiji.
Rather than having to go through meticulous paper work to get permission, the cast and crew were in for a surprise as they had to go through a unique tradition for acquiring consent to shoot in a village in Fiji. As per Fiji traditions the team had to take permission from the village elders to shoot. The entire crew sat with elders for more than six hours and discussed about the shoot, further which they were offered a local drink called 'Kava'. "Only after they had that, the village chief gave his blessings and permission to shoot at the island," confirms producer Viki Rajani. The director and producer narrated the story to them and source reveals that, 'The village elders were very friendly and shared some of their traditions and values with them.'
The entire team got a firsthand opportunity with local customs and traditions. The film is slated to release on the 15th of March, the supernatural thriller stars Neil Nitin Mukesh and Sonal Chauhan.