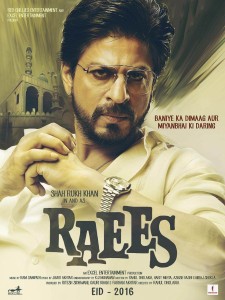 Will Raees clash with Kaabil on 26th January 2017? Or will it instead release on a different date and arrive solo? While suspense around this would be broken in a few days from now, one just hopes that a decision is taken soon. It would be heartbreaking if the clash indeed takes place because the kind of stature that Shah Rukh Khan enjoys as a superstar, he deserves nothing but the best.
Why? Well, here are the Top 5 reasons!
1. As per insiders, Raees is a fantastic entertainer in the offering. The final product has come out really well and as an action drama, the film has a lot to offer to the audience. When it hits the screens, it warrants undivided attention from the audience with absolutely nothing else as a distraction
2. It is about time that Shah Rukh Khan hits a huge six now. He has scored a couple of double centuries already (Chennai Express, Happy New Year) and when a superstar like him scores a century and a half (Dilwale), it gets tagged as an under performer. Yes, Fan has been an aberration and hence can be ignored from commercial standpoint but now with Raees, he deserves to hit it out of the part. He has to!
3. Shah Rukh Khan has traditionally ruled from the top. In recent times though, his contemporaries like Salman Khan and Aamir Khan have scored a triple century each already. All that Shah Rukh Khan needs is a biggie that gets him that much needed 300 crore grosser soon enough. Raees looks like one such film which will place him in there. However, a clash would make it almost impossible for the film to reach there.
4. In the best case scenario with a plethora of holidays in a celebration/festive season, Bollywood has the potential to reach 340 crore, as was the case with PK. 26th January 2017 has an advantage of just one holiday with a stream of films in weeks to come. The potential at box office is not more than 300 crore and a clash further pulls this down for Raees as well as any other film that arrives with it.
5. 2017 would mark as Shah Rukh Khan's 25th year in the industry. His Deewana had released on 25th June 1992 and what better way to celebrate your silver jubilee year than to actually score a big one with Raees. Given the marketing and promotion acumen that Shahrukh Khan carries, the film will make a lot of noise on arrival. He would definitely not want it to be diluted by the arrival of another biggie alongside.