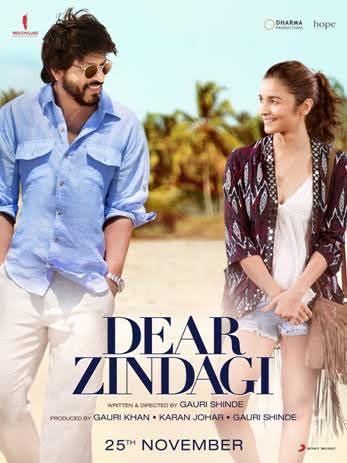 Dear Zindagi starring Shah Rukh Khan and Alia Bhatt released this weekend in cinemas across the world. Here are 5 reasons why you should not miss watching this movie.
Shah Rukh Khan: SRK aka the King of Romance is stepping out of the box and essaying the role of a counselor who helps Alia's character Kaira overcome her depression whilst also sharing with her some life's 'ke funde' (antics).
The pairing of SRK-Alia Bhatt: Judging by the teasers onlyiIf the quirky banter between the two is anything to go by it has already made the film seem a bona fide movie.
Gauri Shinde: Gauri Shinde's second directorial film. We already loved after her debut English Vinglish and are excited to see what she has in store for us in Dear Zindagi.
The Story: Dear Zindagi tells the story of Kaira, a budding cinematographer in search of a perfect life. A chance encounter with Jug, an unconventional thinker, helps her gain new perspective about life. She discovers that happiness is all about finding comfort in life's imperfections.
Ali Zafar: The film also stars actor and singer Ali Zafar.