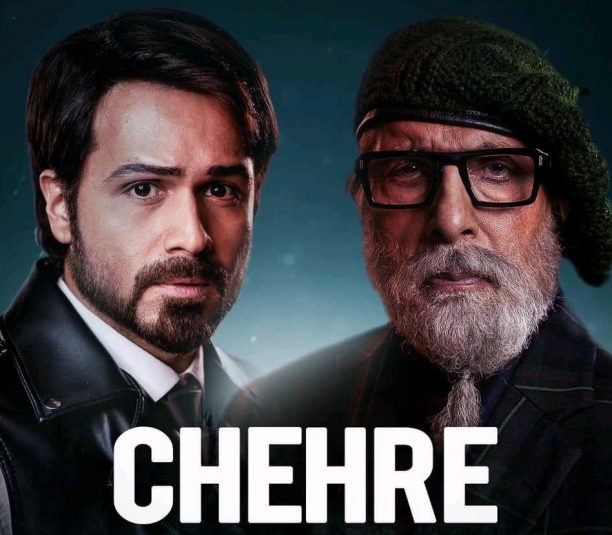 Chehre, the anticipated mystery, thriller, edge of the seat drama packed with suspense revolves around the characters playing the game of justice. The movie features megastar Amitabh Bachchan and Emraan Hashmi pitted against each other. Chehre also stars Annu Kapoor, Krystle D'Souza, Dhritiman Chatterjee, Raghubir Yadav, Siddhanth Kapoor, and Rhea Chakraborty. The film, directed by Rumy Jafry is set to release in the cinema houses on 27th August 2021.
Read on to find out 5 reasons why Chehre will bring more audiences back into theatres
1. Because it is a tightly-knit suspense thriller written by that master screenwriter Rumy Jafry who says he has never had more fun with the suspense genre before. The wondrously-wound screenplay will keep audiences guessing until the very end. We haven't had a solid persuasive suspense thriller in quite a while. Chehre is it.
2. Because it is the comeback film for Rhea Chakraborty who has been through hell, and back. There is a massive curiosity to see "Sushant Singh's girlfriend", happily a healthy curiosity. Prudently, producer Anand Pandit has not used the Rhea card in the publicity of the film. The nature and scope of her character has not been revealed. And no, we are not telling.
3. Because it comes a week after Ranjit Tiwary's slick thriller, the first film to release after theatres reopened in many parts of the country, Bell Bottom has been appreciated. While the audience attendance for Bell Bottom is encouraging, it can only get better in the coming week with prospective patrons becoming more confident. Producer Anand Pandit maintains Chehre is a '70mm experience'. And that's how audiences will get to it on August 27.
4. Because it brings Amitabh Bachchan and Emraan Hashmi together for the first time. It also brings Rumi Jafry together with the mighty Bachchan for the first time. For both Emraan and Rumi it's a dream come true to work with the mighty Bachchan for the first time. Rumi and producer Anand Pandit are already planning their next project with the invincible Mr B.
5. Because it is the indomitable Amitabh Bachchan. Audiences cannot get enough of him. His last release Gulabo Sitabo came on the OTT platform and audiences were disappointed. On the small screen they want to see Mr Bachchan on Kaun Banega Crorepati. They want his larger-than-life persona only on the big screen. Chehre brings back the big-screen Bachchan experience.
Enjoy!