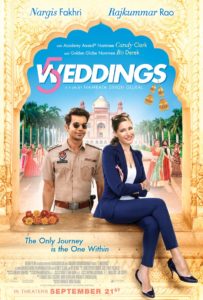 Racism, feminism and sexism are all hot button topics in 2018 and its important they are spoken about. 5 Weddings is a new English-Hindi mixed language film starring Rajkumar Rao and Nargis Fakhri which covers all these topics and more. An American girl comes home to Punjab, the land of her ancestors, trying to take her career to the next step with a piece of super-journalism. Somewhere in research, weddings, languages and both sinister and comedy moments, there is love to be found. With the heavy Punjabi angle on this story, it's no surprise to find several well-known Punjabi music names in charge of its soundtrack: Daler Mehndi, Vibhas, Vishal Mishra and Viplove Rajdeo. From them has come a short and sharp 22-minute album over 6 songs to delight.
Vishal Mishra and Shirley Setia bring a sad opening number in Na Chah Ke Bhi. A piano only opening, give way to a slow, building beat with lyrics in Hindi. The music director seems to have chosen to keep the beat rising until it smothered the singers as the words here are often not clear. Still the overall feeling is happy but there continues to be a sad tone. About half way, drums and violins are introduced and the singers change over to a more expected Punjabi lyric from which they soar above the music with great clarity. Maybe even without wanting it, they have shown their roots!
We wouldn't be in Punjab without some dance and bhangra. So, we have American Beauty, a Mika Singh special along with Parkriti Kakar, Kaur Sisters and Miss Pooja who have a riotous time giving everyone something to dance to. Definitely a wedding song, but more interested in the honeymoon, this is work meets pleasure as "American beauty hai India ki tour pe". There isn't much in synth so for the most part its your standard bhangra at a wedding (or several). But since it doesn't really have any x-factor, it doesn't really compete with Mika's recent hits like 'Milegi' from Stree.
Then we have the feature love song. Sonu Nigam, long time champion of love songs both in Bollywood and his own pop career and Shreya Ghosal, seemingly the signer behind all love songs these days. They come together in Baaki Hai, a tormenting love song where both sides feel that they may be in love, but the other is not quite ready. Heavy tabla and acoustic guitar mix to create a beat that hits the soul and Sonu's new husky, cultured voice with Shreya's chirpy tones that she usually saves for songs in the South, really try to hit the audience where it hurts. However, cinemagoers have been treated to Laila Majnu and Pal from Jalebi, so are unlikely to feel this in the right spot and thus what should be an automatic great, doesn't seem to be so.
Bollywood is always mixing the sad with the happy, so next is Taareef. Rommy Tahli, Rockon Tanuj and Palak Muchhal bring a Baadshah-style pop video to this song with pure club beats and a light Spanish feel. This should get listeners dancing, especially if bhangra is not their thing. As its only 2 mins it's also long enough so people can go for it, while short enough that they couldn't fit a rap break in. Not much to be said about it, it's the same as so many others but as a song there's nothing wrong with it.
2018 seems to be synonymous with remake. Every film it seems has one of these, so here's Laung Gawacha by Saru Maini and Arnie B. This is the classic of Punjabi songs, first probably heard by many Bollywood listeners in the background of DDLJ (1995). It is also a classic Punjabi wedding song and a general fun song where the girls have a bit of fun at the guys. The best thing that can be said for this version is it's short but, in the time allotted to it, it certainly matches the requirements of a remake.
When it comes to icons of Punjab, its hard to go past Daler Mehndi. He may have not only been the originator of "disco bhangra" but also made bhangra and dancing to bhangra available to the western masses. There are dedicated channels on social mediums of people remaking his famous songs who love what he does and has done for this style of music. It's not really a surprise then to find him giving a bonus track to this album, likely the ending song U U Yeah. Once more Daler strides where others do not find a way, to bring Punjabi lyrics to this almost boy band song. If just listening to audio, it's not hard to imagine Hanson or Westlife giving this light and jazzy number some funky moves. Of course, this is a remake, but it doesn't really matter as all it proves is you can get married to some non-controversial Punjabi lyrics in whatever style of music you like.
And that's the whole album. It can be summarised as a series of Punjabi wedding songs plus a love song (even if it is a bit sad). But in this world of racism, feminism and sexism, this album certainly carefully treads the line in avoiding all of them. If you are Punjabi, the songs are still quite good but nothing spectacular in there (even the one that's meant to be). Two remakes certainly hurt as the quest in today's X-factor world is always for more interesting ways of doing things. Nevertheless, this album taken as a complete package certainly adds to the story and could be used to tell parts of the story. As an album it has a beautiful blend of happy pop for those who want to dance and sad but not teary for those who would rather be alone. Thus, a middling rating.