The date is getting closer. There are less than two weeks left for the London Indian Film Festival, Europe's largest festival of its kind. Celebrating its 5th edition, LIFF brings to the capital an array of South Asian independent films as well as some very exciting events.
This year's programme includes a variety of films, from some glamorous releases to highly harrowing stories. Check out the full programme at http://www.londonindianfilmfestival.co.uk/
LIFF starts on Thursday 10th July.
In the meantime, our BollySpice writers have elaborated a selection of the most awaited films and events.
For me it has to be the opening night film Sold. It is the tale of a young girl who is sold into prostitution. Seen through her eyes we witness the tragedy of her experiences, the everyday living that she does to cope and the hope that she will escape and go on to live a normal life. Not only is it a brilliant film but the filmmakers are using Sold as a tool to open up the conversation, to bring awareness and ultimately to raise funds and support to fight against human trafficking. After seeing this you will HAVE to do something to help.
-Stacey Yount
Qissa; Ilai; Barefoot to Goa
I am most looking forward to the following three: Qissa (Director. Anup Singh), Ilai (Leaf) (Dir. Rajiv Reddy Pochareddy) and Barefoot to Goa (Dir. Praveen Morchhale). All three of these films explore belonging, identity, family and the "ideal" life.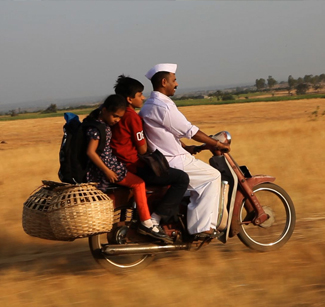 Qissa is the story of a Sikh man dispossessed by the traumatic Partition of India. Trying to re-build a shattered world, Umber Singh (Irrfan Khan) becomes obsessed on the "ideal" of having a son and heir. This obsession costs him a heavy price when he hides the true gender identity of his fourth daughter.
Ilai (Leaf) explores the trials and tribulations of a little village girl who ends up in a metropolitan Indian city. She cannot speak the city's language and does not know how to carry herself across the dangerous streets. She soon reaches out to others who have quite possibly been in a similar situation to gain insight on how to survive.
Barefoot to Goa is the story of siblings Diya and Prakhar who live with their parents in the hustle and bustle of Mumbai. One day, they discover some unopened, hidden letters in a box. These letters are from their Grandmother in Goa who is ill and upset. They decide to set off immediately – all by themselves.
For me, the above three films portray what it is to be human through exploring fears – whether it is by hiding behind or confronting them. The three films although very different, are similar as they explore: family, making decisions that one feels are right. Perhaps these films will shed light on whether decisions are still "righteous" even if the consequences become negative; why one makes choices they do and why humans have a desire to find belonging and the most important, what does "surviving" actually mean- is it to "physically" survive or is surviving deeper than physical needs?
-Aashi Gahlot
Anima State is the most exciting film being shown at LIFF this year for me. A cinematic exploration of such pertinent current issues following events like the Lebanon suicide bombing only days ago, this British-Pakistani production sounds like a truly thought-provoking film. The synopsis in short: "A man with a bandage mask across his face goes on a shooting spree across a Pakistani city, gunning down random people. He soon realises that his actions have no consequences and nobody appears to be interested in his murderous deeds, and so he decides to go on live television with a view to committing suicide on air." I'm definitely looking forward to this gripping piece of cinema!
-Natalie Rout
Farhan Akhtar: Screen Talk
My first choice is undoubtedly Farhan Akhtar's talk at the BFI. The son of writer and lyricist Javed Akhtar and actress and scriptwriter Honey Irani, Farhan Akhtar has totally exceeded any expectations with his immense talent. Actor, director, producer, screenwriter and lyricist, 2013 was his year after his performance as Milkha Singh in Bhaag Milkha Bhaag was a critical success that earned him several awards including the 59th Filmfare Award for Best Actor. Being the most multitalented celebrity in the entertainment business in India, the event promises to be highly stimulating.
-Nuria Bonals Hidalgo
I think having looked at the LIFF Programme, if it's one film I'm looking forward to most, it's definitely Apur Panchali. Though it is not Bollywood but a Bengali language film, it appeals to me most since I'm a huge fan of Satyajit Ray and this film focuses on what happened to the child actor who played Apu in the famous Apu Trilogy. A really intriguing film which I think is one of the key highlights of this year's festival.
-Bodrul Chaudhury
Hemalkasa
Shown as the closing night film, this independent film is a true story based on Dr. Prakash Baba Amte (Nana Patekar) and his wife Dr. Mandakini Amte (Sonali Kulkarni). It's exciting to see Nana on the big screen again as we've not really seen him in a major role since Raajneeti which was back in 2010. There's been some smaller roles and films, but this film looks both interesting and powerful, where Nana's character works tirelessly to help tribal people in Maharashtra, with no help from the authorities, his amazing work eventually leads to the establishment of a free hospital, school and orphanage for animals! A film to watch out for…
-Anjum Shabbir