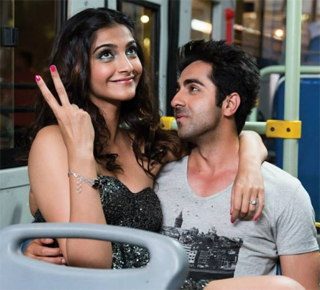 Sonam Kapoor took out time from her busy London schedule recently when she was here to meet Bollywood reporter Sunny Malik to talk about her first YRF film, Bewakoofiyaan.
Bewakoofiyaan is a fresh rom-com directed by Nupur Asthana starring Rishi Kapoor, Sonam Kapoor and Ayushman Khuranna.
The film is about a young middle-class corporate couple that's ambitious and likes the good life too.The leading characters, Mayera and Mohit, are passionately in love but trouble begins when Mohit loses his job and Mayera's wilful bureaucratic father, played by Rishi Kapoor, enters the story as he believes that only a rich guy can bring happiness into his daughter's life.
The film is written by Habib Faisal and is produced by Aditya Chopra.
Watch the trailer here:
http://youtu.be/w5CB2uYyhIU
London Fashion Week is going on. Will we see you attend any shows?
No, I can't attend any LFW shows this time. I am in London for some work and unfortunately don't have the time.
You had a good 2013 with successful films like Raanjhaana and Bhaag Milkha Bhaag. Are you selecting your films more carefully now because expectations are high?
I am trying to choose films that push me as an actor. I am trying to do new and different things. I get bored really easily and I don't want that to happen.
What do you want; box office success or awards?
I am greedy, I want both.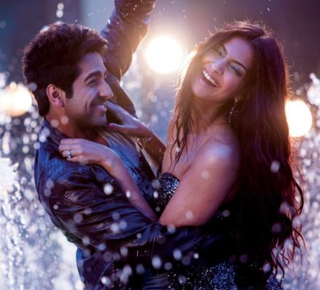 Your new film Bewakoofiyaan is your first YRF production. How did it come about?
Well, I have been in talks with Yash Raj for a few other projects but nothing ever materialised. I can't tell you which other projects. It unfortunately doesn't work that way (smiles). Nothing worked out but then this film came along and it was quite exciting. I really liked the fact that Habib Faisal (Band Baaja Baarat) had written it, Nupur Asthana was directing it and that I would be acting with Rishi Kapoor. When all these things came together, I just decided that I was going to do this film.
What was the deciding factor for you while listening to the script of Bewakoofiyaan?
I think it was the fact that the story had real problems and real people. I liked that. People like my character exist in cities like Mumbai and Delhi or any Indian metropolitan cities. People in such cities are concerned about their job, their cinemas and having popcorn (laughs).
How well do you think Bewakoofiyaan will do at the overseas box office?
My films have done really well in the UK and I hope that the trend continues with Bewakoofiyaan. But I don't know. I just hope the audience understands the film because these are problems that you face in metropolitan cities in India. However, I think that most problems are universal and hope UK audiences understand them when they watch the film.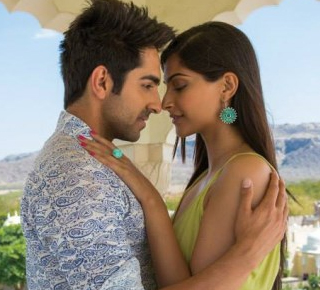 How was it like working with Ayushman Khuranna?
It was amazing working with him because he is very pleasant, hardworking and talented. When you wake up in the morning, you want to be on the film set with someone like him.
Not many expected you to work with Rishi Kapoor after the repercussions of your Koffee with Karan episode.
Yes, but honestly most of it was media created. I have known him all my life. I call his sister 'Maasi' (Aunt). We are family friends. I love him and he loves me. We had a great time working together.
Why is it such a huge issue for people that you are wearing a bikini in the film?
It's the Indian mentality.
A few years ago you said that actors in Bollywood need stylists. Now a lot of your contemporaries use your stylist. Are you happy with how they look now?
I am always happy with what people wear. As long as it doesn't hurt my eyes, I am good.
Bewakoofiyaan released in the UK cinemas on 14th March 2014.