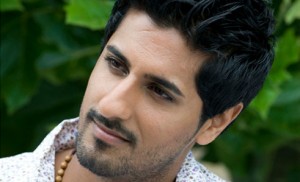 I love talking to directors; they are actually my favorite people to interview because they have such passion about their projects. Last week I got a chance to talk to someone who is not only directing his movie but also is starring in it and it was even better! I am talking about Asad Shan and the film is UK's 7 Welcome to London. He says acting has always been a bug and though it was a tough journey he finally was able to follow his dream. After studying in New York with some of the best acting teachers there and a couple of very successful years in Bombay, Asad came back to the UK and saw a gap that he could fill in terms of making movies. As he says he had a vision and faith and the result is his first major film 7 Welcome to London. It has been described as film noir meets Bollywood meets a romantic thriller and it follows the story of Jai, a hard-working young Punjabi man from Delhi arrives in London, leaving behind his debt-ridden family, to fulfill his dream of a better future. Initially, luck shines on Jai. Whilst discovering London, he forms an unlikely friendship on a ghetto estate, and furthermore his life is injected with a rainbow when unexpectedly he finds love on the underground. But Jai's happiness is short-lived, and he is completely unprepared for what lies ahead. One phone call changes everything. Jai is left trapped in a dark and dangerous existence where only a jungle law exists. The hunt is on and he is running on quicksand…
I caught Asad as he was running around mad getting ready for the release of the film this week and we had a really, really fabulous chat about the film! Read on to see what he told us about 7 Welcome to London!
Tell us about your journey from law school, to modeling and Vjing to now acting and directing 7 Welcome to London.
Oh God! I've always had an acting bug as a kid. My father used to bring these Indian films home and it used to be like a ritual for NRIs living here. I mean my grandparents have been here since 1940s, so my father grew up here. They all grew up on Bollywood films. So as a kid it was just amazing that father would come back from work, he would have a VHS in his hand and he will hand it to me to rewind it so we can watch it while we had dinner together. It all started at that point. But then my father made sure that I was educated so I got a law degree and I got a job as an investment banker for the first year. Then a personal thing happened where my mum had a tumor, which was a benign tumor, but having that scare made me see that if I have any inner passion that I want to fulfill instead of having regrets in my life I want to give it a go. That's when I moved to New York and trained as an actor. I went to Lee Strasberg and New York Film Academy, trained in Sanford Meisner. I was there for a year. Then I came back and I was like what's next? What to do? And that's when I decided to move to Bombay. I became a VJ on B4U. I was brand face for the biggest brands in India. I did commercials for Hero Honda, Fair and Lovely, for Lakme Fashion Week, Wills Fashion Week, did music videos, had hoardings all over the city and it was great! Then one day, I had signed a film, which got held in recession. I hadn't been back to London for a year and a half. When I came here I saw this massive gap in the market. For the two and a half years I was in India the market in the UK had really boomed and Asian films Desi films were doing really, really well. And no one was tapping in those markets. I thought here's such a great opportunity here. You just need to get the formula right. So I had this belief. One thing led to another and now I present to you 7 Welcome to London.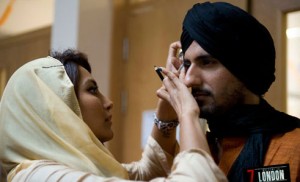 What inspired the story for 7 Welcome to London?
My father's into real estate and we used to have lots of tenants which are students. There used to be this unity that I used to see. People from all over the world will sleep together in one house in like three rooms, about six guys, who don't know each other, but there was a certain spirit and that spirit inspired me. But I am also for commercialism in films. I believe in the Karan Johar type of cinemas. I was wondering how to tap that. How to make things commercial but also Guy Ritchie. I needed to balance it out in the perfect film. You know I'm the face for Zee Network for the last few years in UK. Obviously I've had a massive fan following in the first place and you know I mean people are really excited. People continually asked me when will Asad make his debut. So when I came across this story I was like you know what I have a certain vision that I want to fulfill.
It was all about a journey. 7 Welcome to London is about: How do you feel when you enter a country and what if you find love and you find the meaning of friendship and you find success, but what happens if one day it all gets taken away from you and you have to fight it to survive. What would you do? This story is about a journey, but the way we've done it we've made it into a really hard core commercial with beautiful songs, big cast, but it is also a 110 minutes of a slick thriller. It's like Britain's first Hindi romantic thriller, which will give Bollywood a run for their money. We've had such an incredible response I can't even tell you. We are ecstatic with the kind of response we've had in the public with our trailers, with our music videos because they see the freshness there. I'm excited. I can't wait to share this with you all because I think it's gonna be probably one of the most satisfying experiences I've had in my life.
You both directed and acted in this film…
Yes! I think I was one of the youngest guys on set. At one point I had 150 people on the set and I looked around and said some people are older than my dad. But most importantly it was like, 'Oh my God. 150 people. Oh my God!' (Laughs) It was great because it was like you know what you want and when you know what you want you will derive that out of people.
We did audition for Jai's role. I was like let's see what's in the market. Lot of people had problems speaking Hindi in UK. And obviously because I am a fluent Hindi speaker and apparently, my mum tells me, I'm all right looking so I thought it wasn't a bad bet (Laughs). I took my mum's word and my faith in myself and I was like okay we can go ahead with that. Actors are normally greedy. So for Jai's character it was actually a blessing that I was playing it. But what was interesting was that as a director you know that the scene requires a certain person to overpower you and when you're just an actor you're very greedy. So sometimes the director really has to struggle to derive that out of another actor and say you know what it's his scene or her scene, you need to calm down. And in my case I knew the script exactly, having co-written the script I knew what the scene required. So at the point where let's say Goldie's character or Tony's character or Simran's character will need to overpower Jai's character I would mellow down automatically. So I did justice to the script instead of just being the greedy actor saying 'me me me me me!' as it normally happens in Bollywood.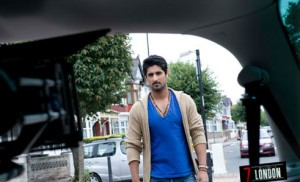 His character goes through an arc, how did you get yourself into the space to play him?
Well I have lived in Bombay, I had lived in New York, so I have been the travelling guy where I've just moved into a new city, not knowing a single soul and starting my journey. I think that was quite like an ideal experience to reflect upon. I remember when I went to New York and I was living on St Mark's Place between 1st and 2nd and 8th street. I mean it's great in America everyone speaks English or at least they say they speak English, they speak American. (Laughs). I speak English right – you speak American.
Hey now! (Laughs)
My point is that we all go through our journeys with individuals, and when we meet new people in our lives and reflect how a relationship develops with that person, we do go through that whole drill. So for me it's just the experiment of taking that whole experience around me, looking around me. I even actually went and spent a lot of time with people from India who actually come into UK. And again the character was played very true to his core. No offence but in Kabhi Khushi Kabhi Gham Hrithik Roshan arrives in London and he goes to college in a Ferrari… Who the heck does that in this world?!! That is just unrealistic. No one ever does that. That's just height of stupidity. No boy, no matter how rich he is, he's not going to change his car every time he goes to college. That just doesn't make sense to me. And today in 2012 if people can't accept common sense then I don't know what that is. Our film is commercial like Kabhi Khushi Kabhi Gham, but more importantly it's real to its core. Not at any point the guy come out in a Giorgio Armani suit. No! He doesn't need to. That's how the character was prepared.
How do you get yourself into playing the darker places of the film when everything is gone and you have to fight to survive?
Well, you see I've trained in method acting. For me it's like feeling the real depth of it. I draw on everything. For me the darkness of the film was to imagine hardships. Everyone has gone through hardships. When my mother had her tumor I thought my world was over. Everyone has their own small things that have happened. You could crash your car; you could see a near death experience because anything can happen. Anything can go wrong. So you know there are so many of these elements. It's basically understanding what the character derives and then taking that to the next level. I suppose it was just a blessing that when I did start it just came in handy with the way I tried to portray the dark side of it. It was quite exciting.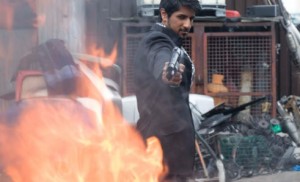 Turning to Asad the Director, tell us about the cast.
We have a stunning Simran who is played by one of the leading models in this small country called the United Kingdom. She is phenomenal. She has done a fantastic job. We have cast from British theater, British television. We have Ali Akbar who is playing the Tamil character of Goldie. We have all these lovely characters. We've got an ensemble cast believe it or not. We've got a total cast of at least 50-60 people. So it was a massive cast.
How did you work with the cast to get them ready for the film?
What we did with the cast was I had a separate session with each person before we got together as a whole cast. I called them up and I had 2-3 hours with each person just to explain, to do their lines, and to try to understand. The best part that I did was that I gave everyone their respective scenes and explained the situation. Nobody got the full script. Because from a director's point of view I didn't want them to be under the influence of what their character is going to go through. So for me the leading girl doesn't even know what happens in the half of the film because she doesn't need to know. It doesn't affect her or her character. And that does away with asking for the sympathy for the lead character because the guys who are the bad guys in the film they don't know anything about his beginnings. Everyone has their different way of working. Everyone has their core objectives. I've got my own nucleus, you've got your own nucleus and you just have to do what you think is right. So your sub-text should be what you think is right in that particular moment and it's for me to say if that's right or not and that's what we did.
I bet that came together really coolly because they didn't know what was going to happen!
Absolutely!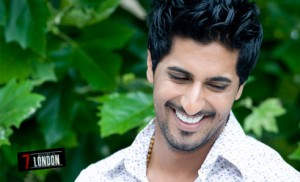 What surprised you about making a film?
First of all the complete daredevil act of saying 'we can do this' and we did it. I think that was the main one. Secondly was to actually thinking and as you say in Inception 'it's all starts with an idea'. So for me I was just a boy from London who had this dream and it was all about fulfilling that dream and believing in one self and his own abilities and that's what we did. I thought this is what I want to do, this is my vision, would I be able to fulfill it? I'm glad to say that yes after seeing the final thing today I most definitely will. It's an incredible experience. I will not change it for anything. And I'm totally, totally delighted with the results. So the surprise was that I actually managed to fulfill what I wanted to fulfill and complete it.
What should audiences expect when they see 7 Welcome to London?
I would say they have no idea what they are coming in for. I mean they are loving our music, right? But let me just make this very bold statement we've released six tracks, we've released so many promos/TV spots, and I still haven't given you more than 30% of the film. And here's another one – all the music videos that you've seen, the footage for those videos in the film is completely different. Which means you're going to have a fabulous experience with this film because none of this stuff will be repeated. Everything going to be fresher than hot cakes, like a hot bun.
The film is going to release in the UK but is it going to release worldwide later?
It's going to America and Canada. To America and Canada we are literally tying up the deal there very, very soon. I already have got the papers from the distributor and I think we will make an announcement next week and probably get you to do it!
7 Welcome to London is having a red carpet premiere on Thursday, March 8th and will hit cinemas on March 9th!