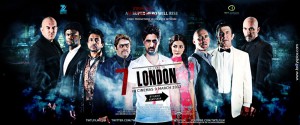 The suspense is finally over for what was anticipated as the first blend of Bollywood and British film-making. The concept is novel: a Bollywood-esque film, in Hindi, including the lip-synced songs, the romance and comedy, shot exclusively in London, by a British team, with a pair of British-Asian leads, but made with western sentiments. The story in a nutshell is about a Delhi-born immigrant who comes to London, Jai played by Asad Shan, who is in search of a better life, who's left behind a family burdened with debt from loan sharks to get there. While there he meets best friend Goldie (Aliakbar Campwala) and his lady love Simran (Sabeeka Imam) and whilst his new life in London starts smoothly, the murky world and it's shady characters threaten to derail Jai and suddenly not all is as smooth and silky as he had wished…Can 7 Welcome To London break through to audiences? Is this the arrival of a new hybrid genre? Read on to find out…
It's well know by now that Asad (model turned Zee TV VJ) not only produced the film, but wrote the story, directed it and also acted in it. So in exactly that order I'll share with you our thoughts:
From a production level, the cinematography was good – with some interesting and in many places stylishly shot compositions. The opening 15 minutes or so was well edited and fast paced and a special mention has to be given to the music videos, as they were clearly successful beforehand and used throughout the film. However, baring the opening scenes, climax and the last half an hour the film could have done with a trim. The middle portions needed to be made tighter and slicker. One felt the sound department suffered, which was particularly notable in scenes which didn't have an accompanying background score. You could pick up the microphone feedback, but to be fair this could have just been watching it in a cinema, where due to the surround sound system it can pick up smallest of details. Given the budget Asad had to work with (approximately £250,000), you have to give him credit for managing to produce a film of that scale on what was essentially quite a modest budget.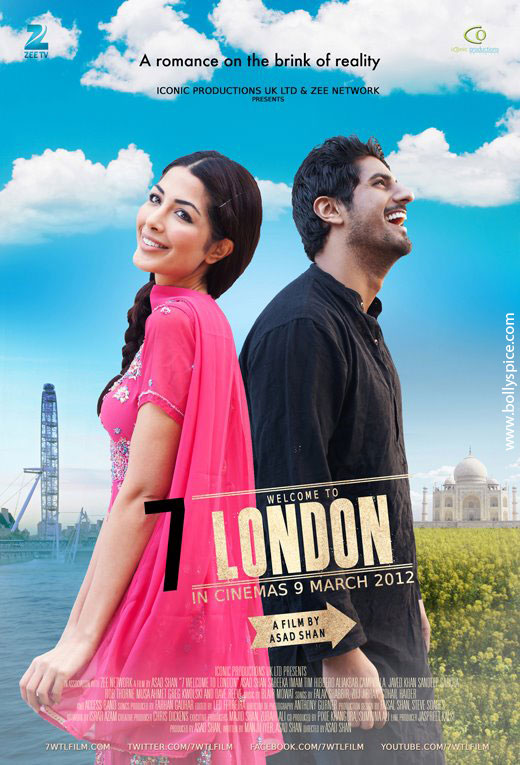 From a script perspective the concept was film noir meets Bollywood meets romantic thriller. Asad the writer choose to make a gritty film, which resonates with the Guy Ritchie school of film-making (think Lock Stock and Two Smoking Barrels), with London gangsters and shady Indian men as part of the proceedings. Add to this a lighter first half where he meets his lady love and his best friend Goldie, who is also an Indian immigrant and who provides the lighter comic moments in the film. A gripping second half for sure, which builds up to the climax and to a large extent has you clamouring for what happens next, akin to a watching rounds in a sports movie (you'll know what I mean when you see it!) However the romantic track with Simran and the instant friendship with Goldie seem to happen in a flash, with no fleshing out and do include some long drawn out scenes and dialogues, which as mentioned earlier could have been made tighter. For all the script was trying to achieve, a blend of Bollywood ingredients, one wishes by the second half that perhaps the script would have been better if it focused on one or the other – a romantic drama or a gritty action thriller. By the end it almost felt like two different halves, with neither side having given full justice. Further, although the aim of the game was to make a film with Hindi songs as part of the narrative, baring a couple of the tracks which were nicely blended into the film, there were a few sporadic songs that crept up as standalone music videos – but mainstream Bollywood fans will be used to this!
We must make a special mention of the songs of the film and here lies one of Asad key strengths – music selection. The tracks were not only popular, they were all fantastic. Whether the faster 'Pass Aykay' and 'Yadaan', or the slower 'Mera Mann', Asad clearly understands that good music sells a film and in this respect he did a terrific job of sourcing great music and delivering some equally good music videos, which were well marketed and appreciated. Whilst on this, worth talking about Asad the director: he clearly grew some great performances from particular members of his cast and generally his framing, camera work and shots were all well composed and accomplished.
This finally leads me onto the performances in order of greatness: Goldie (Aliakbar Campwala), the character he played on screen was so far removed from the one he is in real life – a humble, jolly person, that you could tell he was acting! Whether it was in the comic scenes, or the more serious ones, from his dialogue delivery to his facial expressions, Aliakbar is a competent actor and for many stole the show. Leading lady Simran (Sabeeka Imam) looked beautiful on screen, even though her character was de-glamorised and her Hindi/Urdu diction was the best of the lot (excluding Aliakbar who was born in India!) She was also very good in the emotional scenes and could probably pull off acting in full Hindi feature. Lastly Asad, his main strengths lay in playing the down-to-earth scenes, but struggled slightly with voice modulation when it came to the more emotional and tense scenes. His Hindi diction was secondary in comparison to Sabeeka, which makes you think that perhaps she would have been better playing the immigrant and him the British role, but to be fair he's born and raised in London, so to speak a whole film in Hindi is an achievement regardless. Of the remaining star cast there is no one to really write home about – the key English gangsters in the film seemed more like caricatures of the gangsters and cockney's we've come to see in British gangster films and the same extends to the couple of actors who played the Asian villains.
In conclusion, 7 Welcome to London as an effort was great and you should go in with that welcoming attitude. Asad as a filmmaker has made a good debut and you should go watch this if you're interested in seeing what he and his team have come up with. It's not quite Bollywood enough to satisfy hardcore Bollywood audiences and neither is it mainstream enough for a wider western audience, but if there is that niche out there, then hopefully this film will find them and end up as a good start towards catering for that niche. It's hard not to appreciate this as a first time effort and encourage this we must, as with time each and every aspect (sound, script etc) of film-making will hopefully improve. Even Bollywood doesn't get it right all the time!