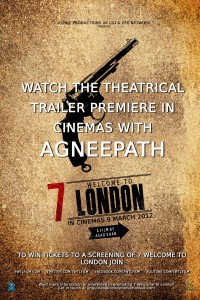 7 Welcome To London will be premiering its official theatrical trailer alongside four other Bollywood films this week. The trailer will be attached to the UK print of the much awaited Agneepath. The placement of the trailer is part of the marketing team's strategic plan to ensure the film gets maximum exposure. Premiering the trailer with one of the most anticipated films of the year will guarantee this. Distributor Joe Mirza said "Attaching our trailer with a movie that is eagerly awaited is the right thing to do especially, as our movie also lends itself to the action genre, which will help it stand out amongst the other films. In three days alone the first look video has over 35 thousand hits on YouTube which suggests that the Bollywood loving audience is already excited about this forth coming release."
Bafta and Oscar winning editor of Slumdog Millionaire, Chris Dickens, the creative producer of 7 Welcome to London, has seamlessly blended the Bollywood style with international techniques to give a contemporary look yet retaining the Desi edge. The slick fast paced trailer is set to show the good, bad, and ugly realities of an immigrant living in Britain and how he is compelled to take a drastic life threatening decision to help his family living in India.
7 Welcome to London marks the debut of British Asian VJ Asad Shan and is set to hit cinemas in the UK on 9th March 2012.