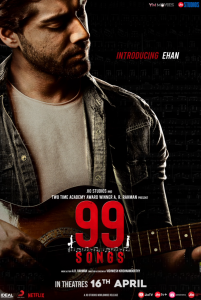 99 Songs
Starring Ehan Bhat as Jay, Edilsy Vargas as Sophie
Written & Directed by Vishwesh Krishnamurthy
Make no mistake. This is a highly ambitious film where the musical phenomenon A R Rahman wants to prove to the world that music can conquer hearts, change the world, and reform corrupt politicians. Just how this Rahman-helmed love story gets there, is a mystery. The plot is a befuddling brew of Mills & Boon , mysticism, and of course music.
I don't know if the film has 99 songs. But there is one after every 5-10 minutes. And the film is 2 hours and 12 minutes long. So do your math while the film's hero Jai(a striking debut by Ehan Bhat) journeys from innocent romance in the city to a jazz-swathed club called Red Mascara in Shillong where Lisa Ray slithering and seducing poor Jai away from the love of his life Sophie(Edilsy Vargas). Jai's girlfriend Sophie changes her hair and flies off to a foreign land to paint and grieve .
Sophie, I forgot to tell you, can't speak. I soon figured out why. She has a bossy self-important father (played by Ranjit Barot) who doesn't let anyone speak. He sneers at poor Jai's aspirations to change the world with music and his desire to marry his speechless daughter. Just when I was trying to figure out all the dramatic conflicts that are piled on to the plot like an over-stuffed burger threatening to topple over with all the toppings, a politician, the CM of an unnamed state, no less, hobbles over to Jai and says, "Tumhare sangeet mein achchai hai sachchai nahin." Jai gives the CM an ok-then look and takes off to Shillong with his best friend, a real affable bloke named Polo(Tensing Dalha, well played) whose family resembles Sooraj Barjatya's idyllic household in a far less plastic milieu, with everyone discussing music. Polo's dad asks why he is wearing a Jimi Hendrix teeshirt when he doesn't know much about Hendrix's music. Good question.
From Hendrix to Indi-jazz to a passing reference to Mohd Rafi to finally some shatriya sangeet at the end when Warina Hussain(of Salman Khan fame) shows up as Jay's mom in a flashback singing in Shreya Ghosal's voice while her husband glowers at her like Amitabh Bachchan in Hrishikesh Mukherjee's Abhimaan…. All of this is accommodated into a plot that begs for breathing space.
Somewhere in this plot-pourri of music, spiritualism, psychedelic drugs and racism(Jay's friend from Shillong gets heckled in a basketball court) Jay goes to rehab for drugs that he never took where he meets Manisha Koirala trying hard to look stern and committed.
At the end the Indian flag also makes its reverent appearance. And yes, Jay writes his life-changing song which I am afraid is no Ae mere watan ke logon or Blowin' in the wind. Rahman's music is effective in bits and pieces while the young male debutant is consistently good even when the script insists on putting him in the most awkward places.
Visually well-shot, and nicely edited 99 Songs is let down by an over-stuffed under-cooked screenplay. A bit of self-control would have gone a long way in enhancing the theme of the power of music to change the world. 99 Songs changes nothing.