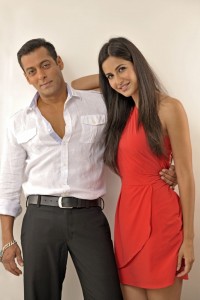 Yash Raj Films is certainly on a roll with new projects. Not only do we have the Yash Chopra comeback film to look forward too, we have Dhoom 3, Mere Brother Ki Dulhan and the just ready to go to the floor Ek Tha Tiger. Directed by Kabir Khan, with a story by Aditya Chopra, Ek Tha Tiger brings together a very exciting jodi of Katrina Kaif and Salman Khan.
The director is known for his more serious work in Kabul Express and New York, but now he says he is going in a different direction for Ek Tha Tiger. "While Kabul Express and New York had to be narrated in a certain style, they couldn't have been flamboyant or over stated. I think I can afford to do that in Ek Tha Tiger. It is not just the starcast but also the story which is larger than life. The subject demands that the story telling is flamboyant here."
Adding, "I intend to bring in some growth in terms of story telling. Now that's a big shift that you would see in Ek Tha Tiger. Ek Tha Tiger is the most commercially accessible mainstream film of mine."
Star Salman Khan is excited about the film, talking about why he choose to take this part he said, "It is a very ambitious project and will be a challenge for all of us, but that's exactly what makes it such a big draw."
The film begins shooting later this month and will have locations in Turkey and other places around the world. The romantic-thriller will release in June of 2012. Stay tuned because we will have more exclusive news as the film goes into production!