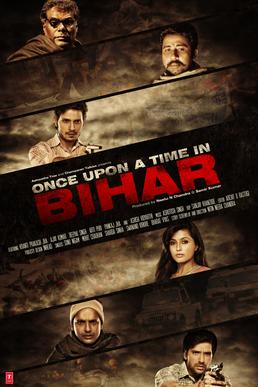 It's easy to ignore a film when it doesn't have big names in the cast. Inversely, star-studded films invariably attract mass audiences.
Both eventualities can prove damaging to the aesthetic sensibilities of a committed cineaste. This week's Titli works despite no stars and in fact works so effectively because it features unknown faces. Last week's Shaandaar proves stars don't necessarily ensure quality.
The other quiet new release this week, Once Upon A Time In Bihar, looks with compelling concern at the lawlessness in Bihar during Laloo Yadav's regime. The plot is taut and the scenario is grim. Director Nitin Chandra weaves together the wasted angst of a bunch of embittered frustrated and angry youngsters in Bihar into a gripping tale of crime and retribution.
Though the film is made at a shoestring budget, the presentation is reasonably polished in that raw edgy kind of way that Anurag Kashyap has patented.
The film is shot on real locations in Bihar with a lot of local actors lending a looming authenticity to the goings-on.
Though the film flounders in the over-dramatic pauses in the plot, it manages to hold its precarious narrative in place almost all the way. Relatively under-exposed actors like Kranti Jha, Deepak Singh and Ajay Kumar, all belonging to Bihar pitch in fully believable performances, along with veteran Ashish Vidyarthi.
The film's overall lack of technical finesse actually transforms into a virtue, giving to the narrative a raw real lived-in feeling.
The plot tracks down the lives of three protagonists to show that crime in North India (and not just Bihar) is fostered by socio-economic inequality and by the politics of casteism. At a time when elections are on in Bihar, this film serves as a fairly valuable wake-up call for the inertia that has seeped into Indian democracy.
There are moments in the plot that make audiences angry and sad, portraying as they do the power of poverty to lure youngsters into a life of crime.
Once Upon a Time Bihar attempts to mirror the truth about life at the lowest levels, much in the same way as this week's other remarkable film Titli. Taken together the two films this week serve as significant warnings of what awaits a nation of rapid industrial growth as it plummets into a society of abject inequality, unemployment, frustration and rage.