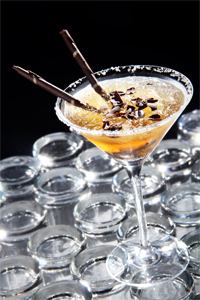 We've heard of stars having fragrances and clothing lines in their name, but cocktails?
The plush Shangri-La Bar Al Jissah property in Oman, where a part of the forthcoming Once Upon A Time In Mumbai Dobaara was shot, has decided to pay a tribute (of sorts) to Akshay Kumar.
Kumar's character in the film, Shoaib, is introduced in the film in Muscat. To celebrate the film's release, the hotel has concocted a special cocktail called 'Shoaibtini' – mixed with Tia Maria, Crème de Cacao and Vodka Absolut Vanilla. A strong short drink, it will be served in a cocktail glass with brown sugar on the rim.
Nicolas Chammaa, the hotel's resident manager, confirmed the news. "We have been privileged to have Kumar enact a scene in the film in The Long Bar. This drink that has been created by our beverages manager is dedicated to him and the entire Balaji team. The rich, robust and complex taste of the main ingredient Vodka Absolut Vanilla personifies the strong and rugged Shoaib while the sweet taste of Crème de Cacao touches on his soft, romantic side. Tia Maria adds to the rich flavor of this special drink."