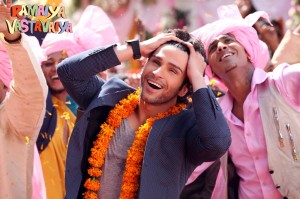 Girish Kumar is just starting his career and making his debut as an actor with Ramaiya Vastavaiya. However one realisation that he has quickly managed to gain in his very first outing is the fact that he is a director's actor.
"Though he has been trained as an actor, both in overseas as well as in India, Girish made sure that he followed his director," informs a friend of the actor, "He felt that when there is someone as experienced as Prabhudheva on the sets, he learn from his experience and then improvise instead of trying to do something innovative on his own."
This was evidenced much before Ramaiya Vastavaiya went on floors when under the guidance of Prabhudheva, Girish underwent several coaching and dance sessions in order to be fully prepared for his part. At his end, his dad Kumar Taurani had ensured that he gets the best of the training and workshop sessions. However when it came to facing the camera and delivering as per the requirement of the scene, Girish did exactly what Prabhudheva expected of him.
"I had promised myself that for me, my biggest achievement would be to get a nod of approval and appreciation from Prabhu Sir," says Girish, "There are quite a few complicated shots in the film and he challenged me to get them right. Of course he was quite patient with me as well to deliver and that helped. I went an extra mile because I never wanted this to come across that since I was the producer's son, I could throw tantrums. Main poore tareeka se apne aapko samarpit kar diya tha (I surrendered myself totally)."
While there are several difficult dance steps as well as lengthy dialogues that he had to mouth, one of the most memorable moments for Girish is the one where he had to milk a cow.
"Aaah, now that was something," he smiles, "I was so terrified before doing this particular shot that I thought it would take me half a day to do it. Surprisingly I managed it in 20-30 minutes flat, all due to Prabhu Sir's guidance."
Now one waits to see how the entire movie has turned out to be. Come 19th July, and we would know.