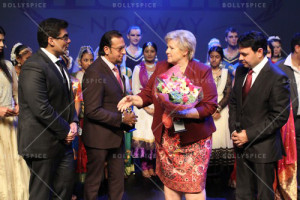 The Grand official opening of the 13th Annual Festival was by the Norwegian Prime Minister, Erna Solberg on 4th September 2015. Accompanied by his Excellency the Ambassador of India of Norway, Air Chief Marshal (retd) N. A. K. Browne with Bollywood personalities Gulshan Grover, Gracy Singh, Film Producer Amit Khanna, Rahul Mittra, ARY TV Network CEO Salman Iqbal. These honourable chief guest were very well received by Mayor of Lorenskog, Age Tovan and Mayor of Skedsmo Ole Jacob Flaten on the red carpet.
The festival took off with Prime Minister opening the festival with a nice speech about festival and culture importance and its need in Norway and all over the world followed by live dance shows. The Event left the audiences mesmerizing with the spellbinding performances.
The highlight of this mega festival was the most spectacular concert at Lillestrøm kultursenter – The Bollywood Musical night with – Jassbir Jassi, Trygve Seim, Jai Shankar, Taz – Stereo Nation, Sniti Mishra, festival dancers who absolutely mesmerized one and all with their magical performances that resulted in a standing ovation by a very responsive audience.
Concluding the Festival, Director Nasrullah Qureshi said, "I appreciate the outstanding efforts of the whole festival team as well as all our guests and audiences for encouraging us by attending this festival. I also thank all the talented artists who performed magnificently on stage & gelled up to make this festival possible."