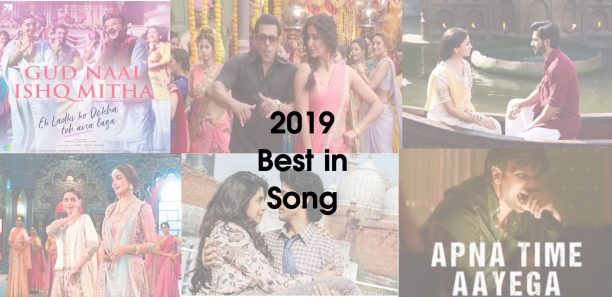 Another 12 months passed, another seemingly thousands of Bollywood songs having passed our ears. 2019 has been the year of the remake, a combination of Punjabi pop making it big in Bollywood, some obvious versions of some lesser known classics and a few that took an old song to new heights. So much so has this been the case, that even when trying to narrow down to the top 20 songs of the year, it was impossible to leave them out altogether… but some were magnificent enough to make the cut. As for musical styles, there's no lack of range in genres, from very slow love ballads, all the way to hardcore freestyle rap and plenty in between. Some are for dancing, some are for listening, some are for holding close, some are for letting go; some drive on, while some find peace exactly where they are. As usual, Bollywood's 2019 has delivered for listeners a veritable variety of great sounds for every emotion, mood and state.

20. 'Tak Taki' – Manikarnika-The Queen of Jhansi – Pratibha Singh Baghel

Shankar Ehsaan Loy didn't do a lot of albums this year but Manikarnika was an early success for 2019. An easy listening period piece album, this song is about a loving relationship as enjoyed in the early years by the Queen of Jhansi with her beloved Raja and eventually son. Even amid ceremony, future enemies and an unwell husband, the Rani finds time for laughter and a sweet, easy, lullaby of a tune.
19. 'Radhe Radhe' – Dream Girl – Meet Bros

A perennial love song, straight out of the old days, while this is not a remake tune it certainly has all the motifs of one. Still, as a tribute to Radha's love for Krishna and a decent dream sequence, with a fun twist, this hits all the markers. Plenty of blue painted men, flutes all around (but still being used cleverly) and a drum beat perfect for dandiyan… can't really ask for more.
18. 'Bolo Kab Pratikar Karoge' – The Queen of Jhansi – Sukhwinder Singh

Once Jhansi was lost to the British and it was time for Manikarnika to leave, there was a lot of dying being done by Indians all around the country. However, Jhansi stood tall, finding a will to survive where all fell around. The song drives forward this rhythm with a strong drumbeat, loud trumpets and Sukhwinder Singh's eternal power. The words drive in the message: revenge must be had.
17. 'Chale Aana' – De De Pyaar De – Amaal Malik

Sometimes, however, quiet is good. This song tells of a quiet end to a relationship, not one mired in sadness or fantasy parental stories, just a bit of real life down-to-earth moving on. Most people will know the feeling and probably wished this had been there at the time and for those who don't can keep this one handy as a guide if that time should come.
16. 'Question Mark' – Super 30 – Hrithik Roshan

A comedy song with a great point. While the video puts out some fantastic CGI, really the point is why not question everything… "Saawalon ke bina ie zindagi hai dark, bulb ki tara jala de question mark". Hrithik may not be the next king of Bollywood singers but his earthy sound makes this both philosophical and old style catchy, while also bringing a different sound of its own.
15. 'Mere Pyare Prime Minister' – Mere Pyare Prime Minister – Arijit Singh

Another SEL production for 2019 was the simple but effective story of a boy seeking some justice for his mother in Mere Pyare Prime Minister. This song is both simple and effective, making an easy point in under 3 minutes, but still finds a way to extract a new note unheard from Arijit before! Light and hard hitting at the same time, with lyrics from Gulzar… what a combination.
14. 'Kitthon Da Tu Superstar' – Mard Ko Dard Nahi Hota — Sanj V, Karan Kulkarni

This one follows down the same path as the previous song being both light-hearted and hard hitting but for different reasons. It's hard hitting with a lot of actual punching, broken windows and the like, but light-hearted due to the comical nature of the lyrics. The bhangra beat and the rap break are both effective as they are not done traditionally but there is plenty of heart on sleeve here.
13. 'Gud Naal Ishq Mitha' – Ek Ladki Ko Dekha Toh Aisa Laga — Navraj Hans, Harshdeep Kaur

There are plenty of remakes/reversions/redos of this classic Punjabi wedding/folk song originally by Malkit Singh. The interesting thing with this one is that it has so many little stories within the overall drama of any wedding scene with the boy looking to score, the girl fending him off and the father being both Anil Kapoor and overly protective. But never is lost the thought "Gud Naal Ishq Mitha".
12. 'Aithey Aa' – Bharat — Akasa, Neeti Mohan, Kamaal Khan

Oh Aithey Aa!! At 12, is the song that literally draws you in even before Katrina works her whiles on Salman. Akasa Singh is a well-known Punjabi pop star and she brings her knowledge to an item/wedding song with Neeti and Kamaal delivering fun and light performances to keep everyone both dancing but still listening too.
11. 'Challa (Main Lad Jaana)' – Uri – The Surgical Strike — Romy, Vivek Hariharan, Shashwat Sachdev

This is a background song to the beginnings of a tactical strike being led by Vicky Kaushal. The preparation, intelligence gathering, and various back end politics all take a place in this song but in the end its real power is in its metal ending which coincides with the actual action. Still there's plenty to listen to even in the power ballad bhangra that is the lead up.
10. The Wakhra Song – Judgementall Hai Kya — Navv Inder, Lisa Mishra, Raja Kumari

Navv Inder and Baadshah first debuted this song in 2017 but in 2019 it made the screen. While a closing song, the change to feminism that this song takes is a strong refresh to a very good Punjabi track. Lisa Mishra and Raja Kumari (taking the place of Baadshah) show that the ladies are never behind, nor does Kangana Ranaut show any fear in putting her foot forward.
9. 'Kaash Unplugged' – The Zoya Factor — Arijit Singh

At 9, is the quieter side of life. A beautiful love story between Dulqeer and Sonam, this song is the cherry on the cake. Normally that would be the main song but in this case this is an album extra but it has found a lot of hits on Youtube and Arijit on his own seems to take this song to a new level. Just sit back and marvel at the magic that is the King of Bollywood singers.
8. 'Rezgaariyan' – Mere Pyare Prime Minister — Shankar Mahadevan, Shivam Mahadevan, Arif Lohar

"Dana Dana upparwala dega dega, neechewala jo bhi dega paisa lega" is the opening line of this song and really says it all. The word Rezgaariyan may not actually mean anything but Gulzar finds a way to give it a meaning in this simple but effective tune sung and written by SEL. The video isn't far behind in its portrayal of poor children living "Life on the street" (definition of Rezgaariyan).
7. Kalank (Title Track) – Kalank — Arijit Singh

Lahore, 1940. Pakistan wasn't a thing yet, so everyone who walked those roads was still just an Indian. For Varun and Alia, this is the serious version of so many films they have done together already in their short careers. Arijit is masterful with Pritam's music to back him as he launches into "Kalank nahin, ishq hai kajal piya". They may be star-crossed, but their song is ever resonant.
6. 'Apna Time Aayega' – Gully Boy — Ranveer Singh, Dub Sharma

Apna Time Aagaya! While 'Meri Gully Mein' is the more famous track from this film based on the Gully Gang rappers, Ranveer takes this song of Eminem levels with the opener "Udd jaa apni rakh mein, tu udd jaa ab talash mein" and just goes from strength to strength from there. The music is collaborated between Divine and Dub Sharma, but the plaudits are all Ranveer.

5. 'Beh Chala' – Uri – The Surgical Strike — Yasser Desai, Shashwat Sachdev

For a soft, smooth love song (not performed by Arijit Singh), look no further than Uri's other major track 'Beh Chala'. A haunting melody, with a journey feel, with both heartfelt sadness and cold realism, this song should touch all hearts. Its pace is even, its lines roll like a boat on a gentle sea. A song for wherever you are in your relationships.
4. 'Rappan Rappi Rap' – Mard Ko Dard Nahi Hota — Benny Dayal

This is the exact opposite of most of the songs of this year. It's a fun, light-hearted song, with no malice but plenty of mixed messages. There are tons of film references, mixing both Hollywood and Bollywood, with a smattering of Japanese anime to boot. Benny is the perfect singer here as its all just as the song says "Budget tang per hausla buland music video".
3. 'Ek Ladki Ko Dekha Toh Aisa Laga – Title Track' – Ek Ladki Ko Dekha Toh Aisa Laga — Darshan Raval, Rochak Kohli

The original song was both an Anil Kapoor classic and one of the songs of the decade as it was part of RD Burman's last ever album. So, even the idea of a remake is bold but Rochak Kohli deserves many plaudits for pulling it off. To fit this new film, it needed quite the rewrite and while not losing the motifs of the original, it still found a way to be completely fresh.
2. Dil Hi Toh Hai – The Sky Is Pink — Arijit Singh, Antara Mitra, Nikhil D'souza

While this one is original, it doesn't do anything new for any lovers of a milan song. Yet, it finds its own niche with a reverb electric guitar, a gospel choir and Arijit dazzling in both Hindi and English. There's plenty of words provided by Javed Akhtar which you're unlikely to have heard before but their meaning is not hard to pick up whether just listening or watching the video.
1. 'Ghar More Pardesiya' – Kalank — Shreya Ghoshal

Again and again Bollywood returns to Indian classical music to find its best and most technical pieces. Even in this year of Punjabi pop, remakes and reworked songs, Pritam was given the chance to showcase what Hindustani is for. Shreya is perfect for the song and the combination of Madhuri and Alia are magical on-screen. All you must do is to let this song under your skin.
So even taking a share of the remakes, refreshes and redos from this year, there's still a very mixed variety of songs within this 2019 Top 20. From the haunting melody of 'Beh Chala', to the ridiculousness of 'Rappan Rappi Rap', even in this 20 we can find the full range of emotions. Whether its sad love song ('Kalank title track') or happy love song ('Kaash Unplugged'), the story of the streets or its fightback '(Mere Pyare Prime Minister')… women's empowerment ('Aithey Aa' or 'The Wakhra song'), songs of the warrior ('Bolo Kab Pratikar Karoge') and even some great wedding songs ('Gud Naal Ishq Mitha'), Bollywood never fails to deliver great music for its great range of stories and as always we look forward to 2020 delivering again.