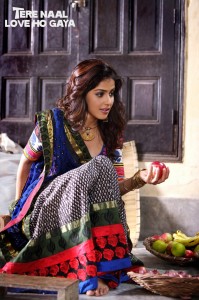 It was quite the adventurous journey for our bubbly Genelia on the sets of her upcoming film Tere Naal Love Ho Gaya.
Genelia shot for the first time on a professional trap shooting range in Patiala Punjab, and had to lift and fire professional (read 'heavy') trap shooting rifles.. And she had to act like a pro, as her character in the film is very adventurous and an extrovert. It was impressive how she managed to pick up the ropes of professional trap shooting from the experts on location and managed to load, aim and fire like a pro to amaze the director Mandeep Kumar on day 1 (mahurat day) of the film.
It was also the first time Genelia spoke French for a sequence in the film as Genelia's character "Mini" is required to speak lines in French fluently… as she hails from Canada. How Genelia managed to deliver lengthy dialogues in French on the sets of Tere Naal Love Ho Gaya, with proper accent and pronunciation amazed everyone including the French co-actors.
We can't wait to see how these scenes turn on the big screen on February 24th!