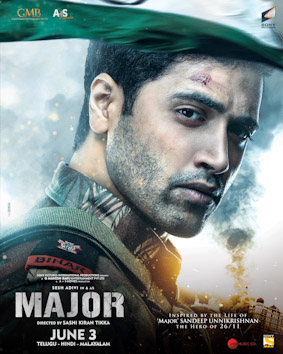 Major(in Hindi)
Starring Adivi Sesh, Prakash Raj,Revathy, Sobhita Dhulipala, Saiee Manjrekar, Revathi, Murali Sharma and Anish Kuruvilla
Directed by Shashi Kiran Tikka
Major, if you will allow some silly wordplay, is a major achievement. It embraces the language of mainstream cinema without playing low-level gimmicky tricks. It wants to tell the true-life story of a trueblue hero . But it wants to do it in the language of the commercial Hindi cinema, and it succeeds unanimously in giving us another memorable war-hero epic after Shershaah.
This is the story of Major Sandeep Unnikishnan who perished while trying to save lives in the 26/11 attack on the Taj.
A remarkably accomplished sound design and Vamsi Patchipulusu's unadorned but deeply empathic cinematography gives to the narrative the mood and texture of lived-in immediacy as viewed through luminous lenses.
The film starts with Major Sandeep declaring he can handle the terror crisis on his own, and then moves back to happier times when as child (a bright-eyed child actor who looks nothing like Adivi Sesh) and his typically warm and upright Telugu parents played by well by Revathy and Prakash Raj especially the former. Prakash lapses into broad hamming at the climax comparing his martyred son to Mahatma Gandhi and Patel.
Such extra-energetic panegyrics could well have been avoided. The narrative has enough intrinsic steam to sustain the biographical brio from beginning to the tragic end. Adivi Sesh nails the character with his outstanding body language .The sheer joy he experiences in playing such a heroic character shines through in nearly every frame. In the action scenes, he is every inch the committed never-say-die commando. Miraculously he carries off the earlier portions as a schoolboy romancing the pretty but over-madeup Saiee Manjrekar, with aplomb.
There are some interesting supporting performances. Sobhita Dhulipala as a high-maintenance journalist who saves a foreigner's child from terrorists, brings in the fictional element in a true-life story that stoutly refuses to be a dry documentary-like tale of a true-life war hero who left us while fighting the enemy.
All we get from war heroism is an occasional memorable war epic such as this. Major is well worth our while.