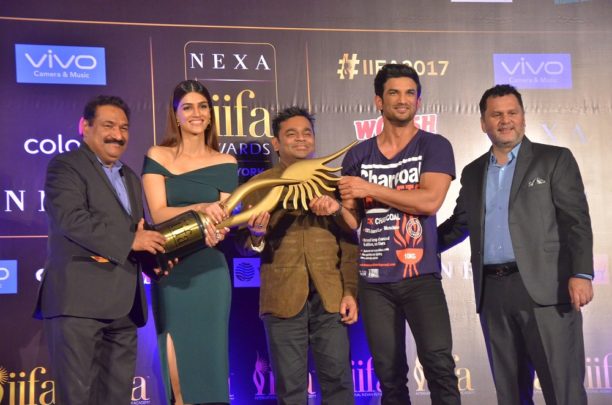 The enthusiasm is palpable across the world as preparations are well underway for the 18th Edition of the International Indian Film Academy (IIFA), to be held from 13th – 15th July 2017 in the host city of New York.
To highlight the upcoming Lycamobile Presents IIFA Festival in the Big Apple, the legendary musical genius A.R. Rahman was joined by Bollywood youth icons Kriti Sanon & Sushant Singh Rajput at an official IIFA press conference held in PVR Director's Cut, Ambience Mall in New Delhi.
A.R Rahman said, "The 18th Edition of IIFA in New York is very special to me and I look forward to sharing the IIFA Rocks stage with such talented names in the industry. I am honored to be a part of the IIFA celebrations."
The 72 hours extravaganza, the Lycamobile Presents IIFA Festival will feature string of events and unique associations: Myntra presents IIFA Stomp, "Shuruaat" Gala Dinner in association with tGELF, The FICCI- IIFA Global Business Forum 2017, the spectacular IIFA Rocks and the one and only- The NEXA IIFA Awards Powered by VIVO.
Times Square is all set to be abuzz with a free-for-all public entertainment at Myntra presents IIFA Stomp to be held on July 13th. IIFA Stomp is all set to build the momentum of the 18th Edition of Lycamobile Presents IIFA Festival New York with an entertaining mix of fashion, music, dance and more! The IIFA fever is set to grip Times Square as Bollywood actor Varun Dhawan will be showcasing his DJ skills at IIFA Stomp! Electronica icon B.R.E.E.D, DJ Nasha, DJ Amann Nagpal and Karsh Kale will raise the IIFA Stomp party with their unique beats for the audience.
Furthermore, IIFA Stomp will present the best of fashion and style with a glamorous Fashion Show right in the heart of the city! The lineup features Bollywood's star siblings- Shraddha and Siddhanth Kapoor as show-stoppers for the NEXA collection by Shane and Falguni Peacock, Designers Shane & Falguni Peacock will also present rising Bollywood star Disha Patani, Myntra's Fashion Show shall be opened by the talented actress Dia Mirza with Tapsee Pannu as the showstopper.
Another interesting facet to Lycamobile Presents IIFA Festival, is a the introduction of the first-of-its-kind Shuruaat Gala Dinner, a charity fundraiser organized by IIFA in association with The Global Education and Leadership Foundation (tGELF) on Day 1, 13th July at the The Pierre in New York. A star studded evening, Shuruaat Gala Dinner at IIFA shall bring together the biggest celebrities from Bollywood, and leaders from business, philanthropy, media, education and the Arts. It aims to provide a platform to contribute and raise awareness for Women Empowerment, Gender Equality, Clean Water and Sanitation issues. The Gala hosted by IIFA in association with tGELF shall feature a silent auction in which proceeds for the same shall go to support the work for global education innovation.
A business networking platform is to be held on July 14th at the Asia Society Auditorium in New York, the FICCI- IIFA Global Business Forum 2017, which will see powerful minds coming together to address global issues. The FICCI- IIFA Global Business Forum supported by Asia Society and US- India Business Council (USIBC) aims to be a space for the growth of business between India and USA focusing on the central theme of "India and United States: Partners in Progress for the World". The FICCI- IIFA Global Business Forum will address the India-US commercial relationship, with panel sessions focusing on the future of India-US Economic Partnership, Defense and Security, Manufacturing, Innovation and Entrepreneurship and Media & Entertainment.
A treat for the fans worldwide, International Indian Film Academy Awards launches the brand new line of Official IIFA Merchandise partnered with New York based Easy Partners, a boutique licensing and merchandising company. The eye-catching IIFA Merchandise includes a diverse range of T-Shirts, Caps, Key Rings, Hooded Sweatshirts, Tote Bags, Magnet, Ticket Holders stylized with IIFA's logo and Mugs showcasing IIFA 2017 in New York available exclusively on the IIFA website on https://www.jsrdirect.com/webstores/iifa as well as at the famous MetLife Stadium during IIFA Rocks on July 14th and IIFA Awards on July 15th.
Commenting on the occasion, Andre Timmins, Director- Wizcraft International, the producers and creator of the IIFA movement says, "The 18th Edition of IIFA Weekend And Awards is going to be one of our biggest ever IIFA Festival to date. We are bringing together the very best in music, fashion, dance extravaganza and celebration of Indian Film and we can't wait for IIFA to take over the City of New York and America. The multi-faceted nature of IIFA also presents a great opportunity through FICCI- IIFA Global Business Forum, with which we aim to create a business networking platform to further trade & policy relations between India and America."
IIFA Rocks, the unique musical event this year has elevated the anticipation as the show will celebrate the illustrious career and work of Musical Maestro A.R. Rahman as he celebrates 25 years in the industry.
On 14th July 2017, the stadium shall transform into a dazzling musical extravaganza featuring a number of surprises and megastars all on one stage as the Multi-talented Bollywood star Diljit Dosanjh will kick start the performances. A never-seen-before medley and energetic performances from Hariharan, Kailesh Kher, Mika Singh, Mohit Chauhan, Jonita Gandhi, Neeti Mohan, Javed Ali,Haricharan Seshadri and Kamaal Khan among others will be seen with the legendary artist A.R Rahman at IIFA Rocks. Bollywood's Riteish Deshmukh and Manish Paul will host the sensational global event.
Adding to it, the most coveted and highly anticipated award celebration The NEXA IIFA Awards Powered by VIVO will see Saif Ali Khan and Karan Johar hosting the star studded night. The awards ceremony will feature Bollywood Star Varun Dhawan making a debut at IIFA Awards with a stunning performance and will also be co- hosting a segment of the show. The NEXA IIFA Awards Powered by VIVO will also include mesmerizing performances by Bollywood superstars- Salman Khan, Alia Bhatt, Katrina Kaif, Shahid Kapoor, Sushant Singh Rajput and Kriti Sanon, to name a few.
Sharing his thoughts, Sushant Singh Rajput says, "I have always been excited for IIFA since my college days, because that's when my association with IIFA began. From being a back-ground dancer to performing for the audiences as an actor, IIFA has always been very memorable to me. I am very grateful to IIFA for giving me a chance to perform. I doubt I will be performing on my songs, because the films I have done, don't really have peppy numbers. However I look forward to my performance at the IIFA Festival New York 2017."
Commenting on the occasion, Kriti Sanon says, "IIFA is a great platform where everyone from the industry travels globally and celebrates the glory of Indian Cinema. The IIFA Awards has always been held in the most beautiful destinations and this time it's being held in New York. I am enthusiastically looking forward to my very first performance at the IIFA Festival and my first visit to the City."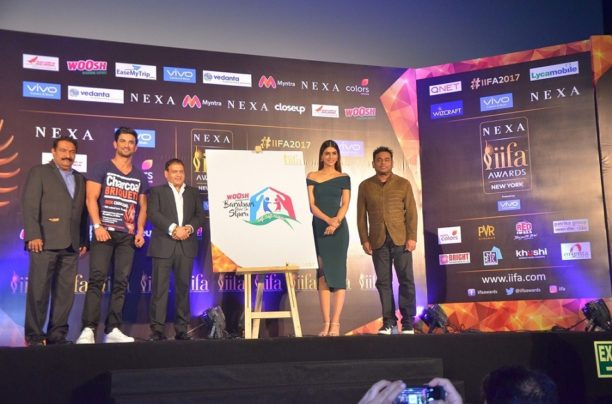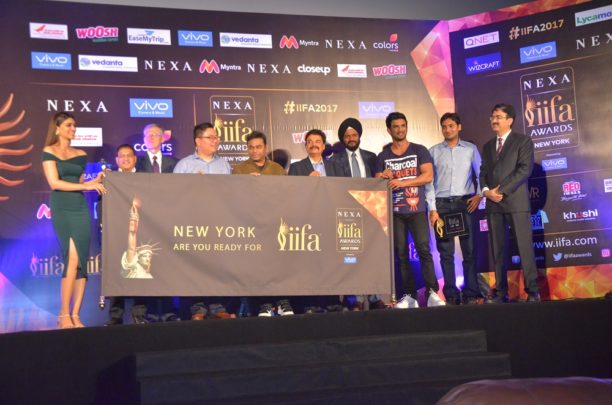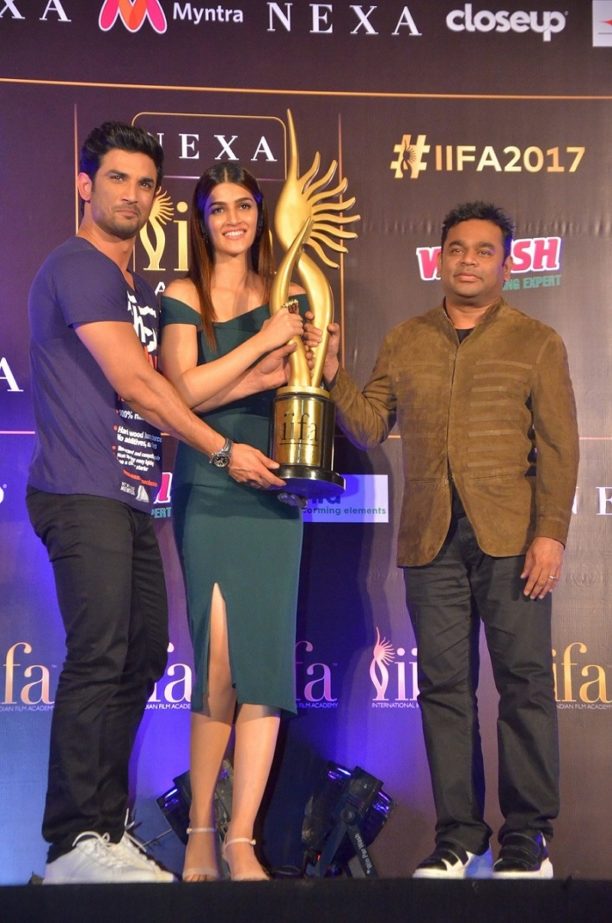 The 18th Edition of IIFA Awards will air exclusively LIVE on COLORS from New York at 9 AM and repeat at 6 PM on 16th July 2017, Sunday.
The NEXA IIFA Awards Powered by VIVO will air LIVE exclusively on Saturday, July 15, starting at 8:00 p.m. ET/5:00 p.m. PT in North America and the Caribbean on cable, satellite and digital Pay Per View via in Demand, Vubiquity, DISH and DIRECTV in the USA, Bell, Rogers, SHAW, SaskTel and Telus in Canada, along with the Flipps App and web site www.IIFAAwardsppv.com in both the USA and Canada. The suggested retail price is $39.95. The live telecast is distributed exclusively via Integrated Sports Media.
With the excitement growing across the world, people can now get that hot seat for the spectacular Lycamobile Presents IIFA Festival at New York events to be hosted at MetLife Stadium as tickets are LIVE to the general public available online only at ticketmaster.com or by calling (800) 745-3000 or by simply clicking the 'Buy Tickets Tab' on the official IIFA website http://www.iifa.com/. Fans can also purchase the tickets at MetLife Stadium Box Office (Box Office hours: M – F, 11am – 5pm). For VIP Club Experiences, e-mail us at vipclub@iifa.com. IIFA has a special treat for its fans, "The Double Dhamaka Offer". Get two shows for the price of one. Buy any IIFA Awards premium seating tickets for Ground Level and Level 100 seats and get free tickets to IIFA Rocks.
As IIFA brings together the biggest stars of Bollywood and Hollywood, the IIFA Festival New York will present some of the most celebrated stars and musicians of the Indian film industry, notable guests, and dignitaries from India and the region, world media and Indian cinema fans from across the globe.
#IIFA 2017
Facebook – https://www.facebook.com/IIFA/
Twitter- https://twitter.com/IIFA
Instagram – https://www.instagram.com/iifa/
We will be there so watch this space!