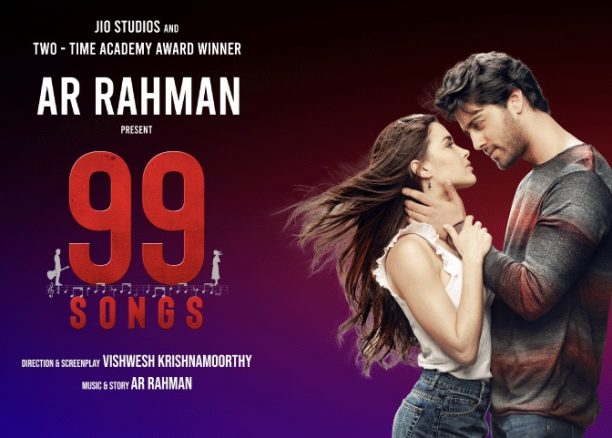 A.R. Rahman's upcoming musical film, 99 Songs, marks the debut of the Academy Award-winning composer as writer and producer. Of course the maestro Rahman is the composer for the soundtrack as well. Directed by Vishwesh Krishnamoorthy, 99 Songs, which premieres in theatres on April 16th, introduces actors Ehan Bhat and Edilsy Vargas and also features Lisa Ray, Rahul Ram, Tenzin Dalha and Ranjit Barot.
99 Songs follows the journey of a young man named Jay whose life centres around his two great loves: music and his girlfriend Sofia or as Jay calls her Sophie. According to Mr. Rahman, "99 Songs is about a musician trying to make it against the odds. It is about his struggle between the old world and the new world, and the antidote is music."
From the very first notes in the teaser of A.R. Rahman's 99 Songs, I knew that this movie and its soundtrack were going to be something special. Then Mr. Rahman released 'The Oracle' and I was completely in awe. I now have listened to the full album and was so mesmerized that I got lost in the music and forgot I was supposed to be taking notes. Each song creates a mood, a thought, a feeling, a picture, in beautiful, at times surprising ways full of many different genres of music.
Now, I must beg your indulgence as you read further. Instead of following the general music review formula, I feel that it is much more appropriate for me to share with you how this musical masterpiece spoke to me, heart, mind and soul. Enjoy!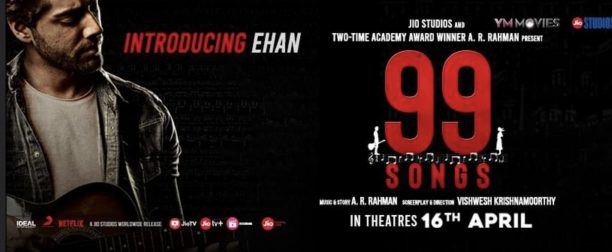 "Oh My God!" was my first awed thought listening to O Aashiqa sung by Shashwat Singh. It took me three tries to finally stop and write notes. According to Mr. Rahman, this track is 'a song that talks about love and yearning of the heart and reminiscing the few precious moments in life spent together' and the track brings that to fruition in music. The first echo-y acoustic guitar lines set the mood and then Shashwat Singh's smooth, heartfelt vocals join in to make the song live. Then there is a deep drum beat that surrounds his voice and the listener. The harmony between the singers is also pitch-perfect and adds even more to the full sound of this track. The change and the build-up with the drums and the other background music takes it even higher. Then stronger percussion and the chorus come in and I got chills. The track goes even deeper and more soaring with music, guitars, orchestra, percussion and vocals – it is breathtaking. Shashwat Singh is superb in this section he lets it go and you fly with him on his notes. He is OUTSTANDING! By the end, you are completely enveloped in the music. This song has so many layers, so many elements of greatness, musically, lyrically and vocally. You HAVE to listen to this with headphones on to get the full effect of the majesty of this composition. It is a masterpiece. When I finished with it I had to take a deep breath and come back to this world. This is a song I will play over and over again.
Sofia begins with a soft melody featuring A.R. Rahman and Shashwat Singh. At first, it reminded me of a classic Bollywood song, which always makes me happy. It then transposed into an acoustic guitar ballad, which I love. This melodious music backs Singh's impeccable delivery. His voice is amazing, both soft and strong in parts, and his rendition is perfect for this track. There are some extraneous synth additions that I wish were left out because it did distract from the purity of the song. Though good, the shift to a more rock flavored track seemed unnecessary as well. However, in the end, it is Singh's vocals that make this song work. Overall, 'Sofia' is another brilliant song and is already added to the playlist of my favorite songs.
Nayi Nayi begins with a synth electro beat that builds up to a guttural vocal that then leads to a rock beat. It reminded me of the 80s rock band sound and I was in for it. The drum beats are full-on rock and are they wicked. At the mike are Shashwat Singh and A.R. Rahman. Shashwat Singh shines in parts but in others, it feels as if he is fighting the music and straining a bit. Some of his runs seem at opposition to the music. However, as the song played on I found myself nodding to the beat and actually felt like I was listening to a concert performance. I am looking forward to finding out if this song is in fact a concert scene in the film. Even with the minor problems this song still jams!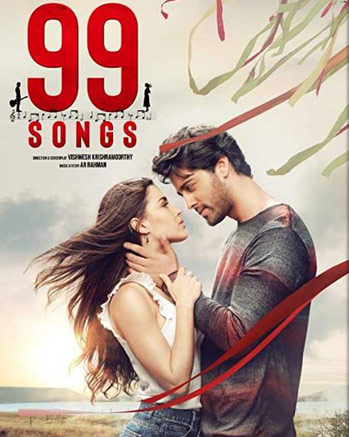 Beginning with a gorgeous piano line, Humnawaa is a treat to the ears. As Shashaa Tirupati beautiful voice layers in as the notes of the music, you are entranced. Armaan Malik takes the lead in the song and his deep, smooth, brilliant vocals are a counterpoint to the piano's scaling lines and though you would think that would not work it does. 'Humnawaa' then smooths out and Malik fills every note perfectly. Again we have Tirupati and she intertwines within and is the notes of the music. The music builds and the vocals are so full of emotion. It is the weaving of her mellifluous vocal that is a masterstroke and an amazing way to make the music come alive. Another outstanding song musically and vocally.
Arijit Singh in his deep growly register creates the tone and mood for Jwalamukhi. I love Arijit Singh in all his forms but his deeper tones are always a treat to the ears. The music for this one is hard to really put into a genre but it has a pop-synth vibe that I really liked and he matched perfectly with his delivery. It is smooth in parts, dynamic in moments and has a very cool snap both literally and figuratively. I couldn't help but snap along. As if we needed more proof of Arijit Singh's talent, he showcases his voice with some incredible runs. This song defies being placed in one genre, but that is AR Rahman, right? I look forward to seeing this within the context of the movie.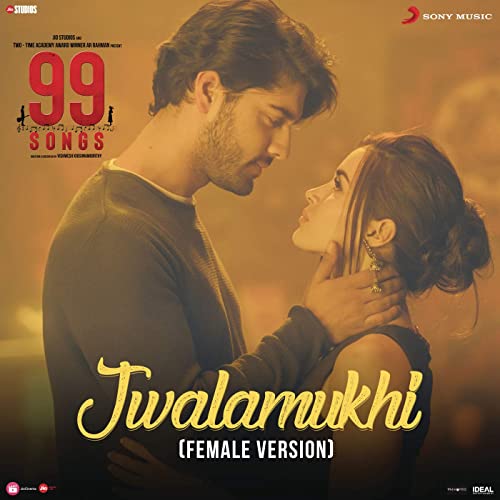 The Jwalamukhi (Female Version) features Poorvi Koutish. This one is even more electro-synthy in the beginning in a rather strange way. It then evens out with a lovely yet driving melody line. Becoming much more of a power ballad, the entrance of the power-packed Poorvi Koutish vocal makes you sit up and take notice that this is a completely different version. There is a yearning to her expansive piercing delivery and you can feel her cry in the strong and the soft parts. The arrangement is pared down in parts so it is her expression of the song's lyrics that stand out. Of course, Rahman adds many more layers and a chorus in certain sections that provide a nice musical interlude. I loved Arijit Singh's version but this one takes it up to 11. It is brilliantly sung. Another highlight on a soundtrack full of marvelous music.
The pure bell-like tone of Shashaa Tirupati features in the slow ballad Soja Soja. In the beginning, you can just sit with your eyes closed and get lost in the beauty but then… a crash and the song transforms into… well a jazz joint with the blues backed in and English lyrics. It is a surprise but it is absolutely superb. Her voice completely slays this song. And if you thought that was good, it then becomes a full-on show-stopping musical or cabaret number and I was ready to applaud (maybe I really did) just listening on my computer. The flavors, the tones, the richness of Shashaa Tirupati vocals are excellent. She hits the soft, the powerful, the jazzy, the melodious, and everything in between. By the end of this track, you just are in awe of her talent. Brava Ms. Tirupati! I cannot wait to see what happens onscreen with this song. Did I say Brava? And Bravo to Mr. Rahman for such a surprising and superlative song.
Sai Shirdi Sai featuring the incredible vocalization by Bela Shende is very rooted in Indian music. It feels almost a prayer and I think I am right because Rahman says, "This composition is a tribute to the divine power that guides us all." I loved every note sung and played. These songs are what exquisite music is to me. I could listen to this over and over. The underlying drums, the backing orchestra, the harp, the flute and her vocals are magic. This is another magnificent composition by the great master Mr. Rahman with glorious vocals by Shende.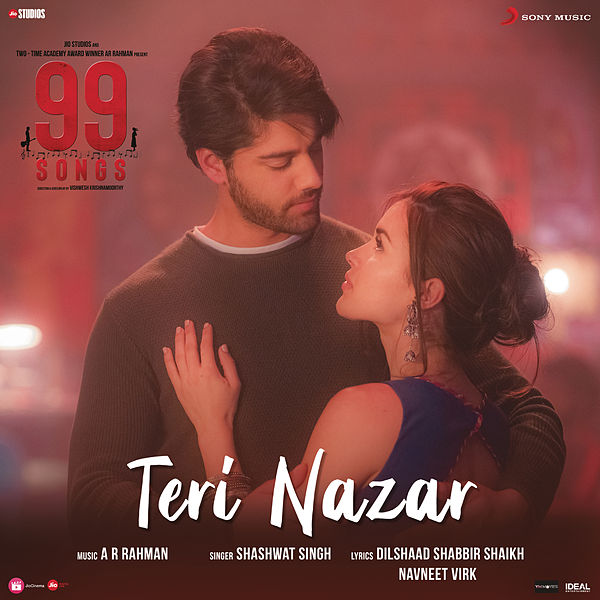 Another lilting but lively piano line begins Teri Nazar, then a bass adds depth that brings a cool vibe to the ballad. Shashwat Singh once again takes the lead and sings with vitality and feeling. Rahman then adds in deep drums with an Indian flavor that fills out the song. We also have an orchestral line with the cello taking the lead that creates yet another mood and feeling. With each addition of more instruments, the song just becomes a wall of sound. This is another song you just want to sit and listen to enjoy and let it speak to your musical heart. Again Rahman begins one way then builds upon that theme by layering the vocals and instruments, showcasing his mastery as a composer once again. I loved experiencing this track. Also, mention must be made that I am so intrigued by the applause at the end… what is happening in this song within the story of 99 songs?
Gori Godh Bhari is a full-on Indian classic music piece. Featuring the vocal talents of the incredible Alka Yagnik, who is joined by Anuradha Sriram, and Shweta Mohan, it is glorious. It becomes a bit frenetic in the music break but then back to the deep percussion with the overlay of the mix of their beautiful vocals. Lively, rooted in the sounds of India, it is a song that sways and intertwines with many musical instruments in some musical sections and then back to the deep thump of the drums and resonating vocal. Another favorite!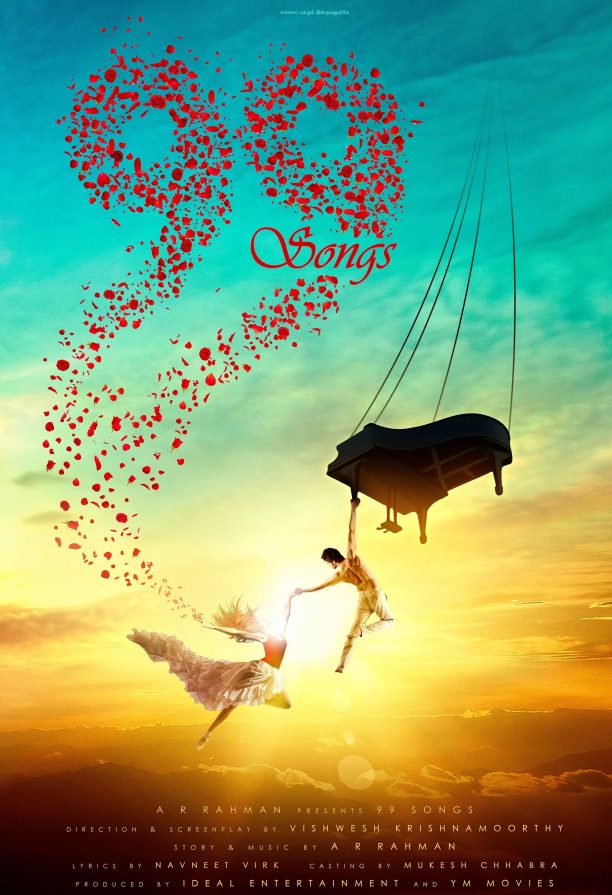 A lovely dulcet acoustic guitar line begins O Mera Chand and again I am in my happy music place. The music, of course, becomes more when the phenomenal tones of Bela Shende are back. In this, she is sweet-sounding with a whisper tone that matches this ballad. A sonorous lilting flute joins in and the music is in a word splendid. The track mainly features her classical vocal tone backed with acoustic guitars and that might seem to be discordant but actually, it is something concordant that is completely pleasing to the ear. It expands to more sound but at its heart is a wonderful song filled with fabulous voice, guitar and flute. Another amazing piece by Mr. Rahman.
With a beginning stanza of a driving thumping drum beat, Veere Kadh De featuring A.R. Rahman, Sarthak Kalyani, Swagat Rathod, Poorvi Koutish, and rapper thoughtsfornow is something completely different from every other track on the album. It turns into a synth instilled Punjabi kind of track but with a modern underlying beat and a rap addition. I honestly am not sure what to make of this track. I think I will hold any thoughts or judgement until I see how this works on screen. Some may love this just listening to it because the throb of those drums are killer but the rest seems to be… well I will wait to say more. You listen and see what you think and then we will all find out once the tale of 99 Songs plays out.
To me, the track The Voice Without Words makes me think of what it sounds like in a composer's head. The static noise in the beginning, the voice, then the hints of melody, the lyrics and the muse's whisper coming through, then the music arrives fully. Now I have no idea if I am right but that is what 'The Voice Without Words' spoke to me as I listened. It is a song that must be experienced and felt with eyes closed, listening with headphones with your volume up. The music envelops you, with the poetry of the lyrics spoken and sung by Poorvi Koutish her voice speaks to you and you are lost in the awe. Then the orchestra joins in and I teared up at the magnificence of this song. I have never heard a track like this and A.R. Rahman, I have not the words but to say I sat there stunned!
A. R. Rahman's final musical gift to us is the instrumental The Oracle. It begins with the piano melody of 'O Aashiqa' but then it is heightened with the opulent orchestra. It is a stirring, breathtaking classical piece. I loved it when I first heard it and I love it even more now. This is another track that just speaks to me and fills my soul. This one is not to be missed either.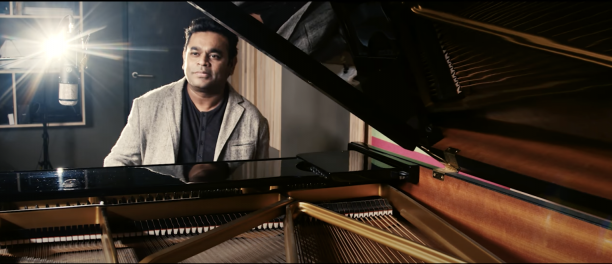 A.R. Rahman's soundtrack for 99 Songs is truly one of the best set of compositions I have ever heard. He is, of course, known as one of the greatest composers in the world. With this soundtrack, I truly feel he has reached an even higher level of genius as a composer with the momentous songs for 99 Songs. It is music that is sublime, transcendent, majestic, divine, magical and so many more adjectives of praise. Both 'O Aashiqa' and 'The Oracle' got into my soul, the others completely blew me away and I sat there in awe of the talents of the singers, the musicians and Mr. Rahman's incredible art!
I always find that when I love a song just listening to it that once I see it within the world of the movie, I love it even more. I cannot imagine that I could love these even more than I do, but seeing glimpses of the visuals makes me think that it is entirely possible. I certainly cannot wait to see the music and the story of 99 Songs come to life on screen.
Thank you Mr. Rahman for such a stunning musical journey. It truly spoke to me and fed my heart and soul. I give you a standing ovation here at my computer!