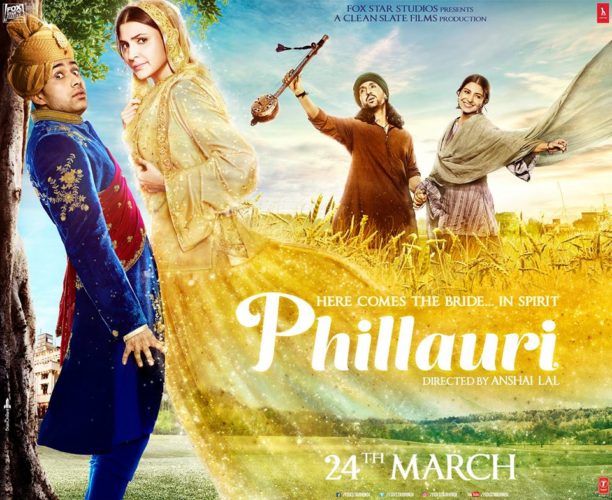 Anushka Sharma began her production company, Clean Slate Films, with brother, Karnesh Sharma, with the single-minded intention of producing movies that the sibling duo "believe in and the audience loves, while backing exciting new talent." They certainly are living up to that promise.
NH10, their first home production, was appreciated for its brave take on the social condition of women in Haryana and Punjab in India. Her film won the audience and critics alike. Now the actress is ready with her second venture, the spirited, romantic comedy Phillauri, which releases in cinemas on 24th March.
Alongside with the fabulous Anushka Sharma, the film features a stellar ensemble in lead actors, BAFTA, Empire and Critics Choice Movie Award-nominated and MTV Movie Award-winning, international artist, Suraj Sharma (Life of Pi, Million Dollar Arm, Homeland); and Punjab's most beloved export, Diljit Dosanjh – recording artist and superstar of regional, Punjabi cinema with a global fan base, who has gone on to champion the Indian film industry, recently bagging the coveted Filmfare Best Debut (Male) award for his superlative performance in the gritty, social realist drama, Udta Punjab.
Phillauri, the directorial debut of Anshai Lal, who previously assisted on Box Office super-hits such as Chak De! India and Dostana, is already creating a buzz internationally, with the trailer generating over 14 million views and unanimous adulation. Not only that it's first song 'Dum Dum', has over 2 millions hits and counting!
A fun, family entertainer, Phillauri sees Anushka play a friendly ghost from the past, whose love story with Diljit unfolds on the backdrop of a present day Punjabi wedding. Here comes the bride … in spirit! Phillauri narrates the unique story of how it will take a crazy Punjabi wedding, rank strangers and more than a lifetime to complete a love story.
One of the most interesting things, among many, is that Phillauri highlights the extraordinary concept of Manglik through the romantic comedy genre, tackling the subject matter with both sensitive humour and gentle pathos. In Indian astrology, a person born manglik is believed to be inauspicious for marriage, causing discord and tension in a relationship and leading to severe disharmony and tragedy, possibly death. This is believed to be caused by the fiery nature of the planet Mars in their ascendant chart. If two mangliks marry, the negative effects are believed to cancel each other out. However, there is also the belief that the negative consequences of a single-manglik marriage can be resolved if the manglik first performs a ceremony called a kumbh vivah, in which the manglik "marries" a tree. Phillauri presents this theme through a witty and intelligently crafted narrative, with the colourful and rustic charm of Phillaur, Punjab providing the magical mise en scene.
Check out the trailer to see what is in store for you!
We can't wait to see and hear more and then experience this film on the big screen!