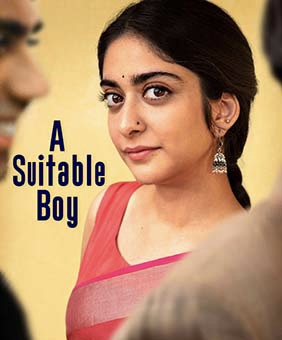 Having worked in a bookstore for much of my university life, I was definitely aware that Vikram Seth's "A Suitable Boy" was something special. But it did not intrigue me enough to delve into the 1500 pages long acclaimed novel. So, when I heard about the BBC mini-series, I was quite excited to find out what the fuss was all about. The excitement grew even more when Mira Nair's name was mentioned. A maker par excellence, I was really keen to see her flaunt her talent in this long film format. And that she did. The fact that A Suitable Boy still manages to stay with you long after the 6th and final episode concludes, despite its glaring flaws is a huge compliment to the maker.
What are those glaring flaws you ask? Well, on a key aspect of a piece of cinema, language. Set in 50s India, the characters speak English. This was clearly done to make the 6-part series BBC audience suitable (pun intended). I'd like to think the sophisticated BBC crowd could have read subtitles if it meant a more authentic piece of cinema. You simply loose me when you have Indian-accented actors, who are playing villagers nonetheless, converse in English. Then of course there are the Western accented actors whose Hindi is debatable and who just seem out of place. What is worse is the English dialogues are penned rather amateurishly. I am not going to lie, parts of felt like the characters were rehearsing for their high school play.
The other glaring flaw is that some of the actors simply get carried away at times with the melodrama in the script. Their characters come off caricaturist and I am pretty certain this was not the intention. The biggest offenders here are Sahana Goswami, Vivek Gomber and Mahira Kakkar.
What impresses is: 1. the complex layers of emotions explored on the screen, 2. the subtle yet powerful underlying themes bursting at its seams, 3. the depiction of the struggle of cultures in pre and post partition India, 4. the political background in which the story is set and last but not the least, 5. the scary familiarity of the 50s Indian politics to the current day politics in India where religion is the biggest weapon in a political party's arsenal (this last one was perhaps an intentional outcome).
Mira Nair encapsulates all of the above in what is a gripping 6-part series that would have been fit for the big screen thanks to its sweeping shots, flawless costumes and captivating performances. However, it is about time makers did not hold back the punches with web or TV content. Why should we be limited to close up and simplistic shots on the small screen? Why can't we have layered sweeping shots of grandiose locations and breathtaking landscapes? I do not think I appreciated it any less here than I would have done on the big screen. Here's hoping A Suitable Boy creates a new norm. The fact that Mira and DOP Declan Quinn achieve this in what I understand is a humble budget is a real feat.
Coming now to the best part, performances. Vikram Seth penned a storyline of too many characters to count (Some say 100). This means you're spoilt with great performances (and that sometimes you need to take notes while watching, in case you lose track). The performances that stood out were that of Ishan Khattar and Ram Kapoor. Why those? Well perhaps because the two male actors really surprised me with performances that is incomparable to any of their previous works. Ishaan shows an unseen level of maturity as the complicated Maan Kapoor whilst Ram Kapoor as Maan's father delivers a beautifully layered performance that truly lets one understand the conundrum of Mahesh Kapoor. Next up on my list of accolades is Namit Das, Tanya Maniktala, Aamir Bashir, Ranvir Shorey and Vijay Varma. Of course I need not even say that when Tabu is onscreen I find it very difficult to concentrate on any other performer. Once a scene stealer, always a scene stealer.
The problem with the 6-part series is that notwithstanding it's a 6-hour long piece of cinema, you wanted more. I wanted to know more about Saeeda Bai's story. Her history, her pain and how she leads a life of compromise or does she in fact find happiness? I want to know more about Nawab of Baitar and Saeeda's story. I want to know more about her and Maan's love story.
Speaking of Maan, the boy deserves his own series too. He's so wonderfully complex. Equal parts passion and naïve.
Perhaps the most boring of the characters is Lata Mehra. She's the lead in search (or rather her mother is in search) of the Suitable Boy, yet I was not invested in whether she finds him or not. I am invested in the individual storylines of each of the candidates, but I could not care less as to how they feature in Lata's story.
A Suitable Boy definitely deserves a watch. It's a Mira Nair gem that impresses despite obvious flaws. It is so wonderfully rich with emotion, culture, drama and complex underlying themes that it and its characters are bound to stay with you much after the series concludes.