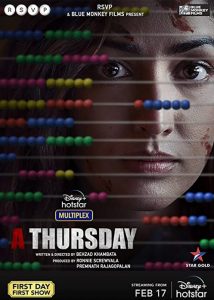 A Thursday(Disney-Hotstar)
Starring Yami Gautam Dhar, Atul Kulkarni, Neha Dhupia
Directed by Behzad Khambata
A Wednesday was about a common man played by not such a common actor Naseeruddin Shah who holds the whole city hostage for wrongs done. Now, A Thursday is about a common woman played by a not such an uncommon actor Yami Gautam Dhar who holds 19 kindergarten kids hostage because of the wrongs done to her when she was a teenager.
Her warped mind says an eye for an eye. We say a sigh for a sigh.
Silly Naina Jaiswal! No one ever told her that two wrongs don't make a right? Last year we had a far more taut and chilling thriller Dhamaka about a wronged man holding a city hostage. Kartik Aaryan held the hostage situation from getting out of hand by staying calm. In A Thursday the negotiators are Javed Khan(Atul Kulkarni) and Catherine Alvarez(Neha Dhupia) who spend more time bickering with each other then defusing the kindergarten bombshell.
It is obvious that Javed and a heavily pregnant Catherine(who apparently plays pregnant as the actress playing her was pregnant in real life) can't stand each other: at one point she even hits out at him physically, which is really the armpit of law-enforcement protocol.
Inside the kindergarten school Naina simmers with the cops, threatening to kill the kids one by one, and simpers with the kids, cochie-cooing and mollycoddling them to the point of sheer annoyance. Who will believe Naina to be capable of violence against the children when she can't stop pampering them, except the two warring cops one of whom believes Naina will carry out her threat of killing the kids one by one.
The trouble, and the main flaw in the plot, is that we don't believe Naina is capable of violence of any kind, for even a second. As Dhupia's Catherine spits out, "She is a bloody attention seeker."
Oh, and Catherine also uses the F word, for no other reason except that she is allowed to on the OTT platform. Good luck with that.
As for the film, it gets progressively stuffy and self-important with every passing frame until Dimple Kapadia arrives as the Prime Minister. "Main tumhara dard samajh sakti hoon," PM Maya Rajguri tells Naina.
We don't believe her either. Dimple looks she is more bothered about her lunch menu for the day than a rape victim's vigilante act. What we do believe is the sincerity of the writing. The film means business. Its concern for the lack of safety for women specially on public transport, cannot go unnoticed.
Neither can the honest-to-goodness performances. While Atul Kulkarni and Neha Dupia are their ever-reliable selves, Yami Gautam Dhar fails to go that extra mile in making her character Naina a chilling casualty of societal indifference. While Yami is able to bring out the character's self-loathing during the hostage situation she fails to take her character deeper into her soul to dig out the dirt that lies underneath the sardonicism.