With now 20 years of DDLJ magic we wanted to bring this favorite feature back.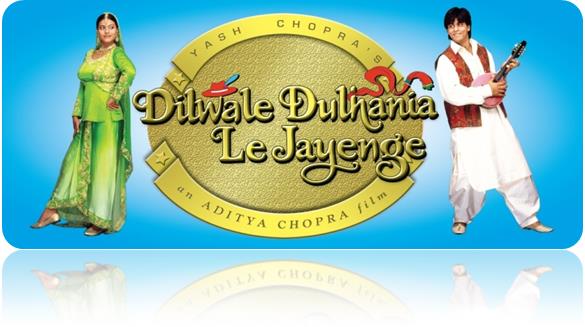 One thing you must know about BollySpice is that we all write about what we love, which is Bollywood, and for many of us here on the team, one of the films we love the most is Dilwale Dulhania Le Jayenge or DDLJ. The film debuted on October 20, 1995 and 20 years later it is still playing! Since many of our writers do love DDLJ so much, we wanted to pay tribute, once again, to this iconic film!
First the story:
Dilwale Dulhania Le Jayenge is a story about human relationships.
Chaudhry Baldev Singh (Amrish Puri) is a London based immigrant. He, along with his wife Lajwanti (Farida Jalal) and two daughters Simran (Kajol) and Chutki (Pooja Ruparel) have been living in London for the past several years. A true Indian at heart, Chaudhry Baldev Singh is a man of great morals and has tried to imbibe the very same in his daughters. He has brought them up with the belief that they are strangers in this foreign land and are here purely for financial reasons. They will all return one day back to Punjab, back to his roots, his land, his culture, one that he so strongly believes in.
Simran like any other girl dreams of this perfect man and waits for him to walk into her life. Soon enough, she realises the mere futility of her dreams as her marriage has already been arranged to her father's best friend's son Kuljeet (Parmeet Sethi).
Raj Malhotra (Shah Rukh Khan), another London based immigrant is a regular rich spoilt brat brought up in the lap of luxury. He is a true playboy at heart. But he shares a beautiful relationship with his father Dharamvir Malhotra (Anupam Kher) where they are more like best friends.
Raj and Simran along with other friends meet on the Eurail. They go through an entire gamut of emotions. From initial hatred, to being acquaintances, to friendship and finally falling in love. They realise their true feelings for each other only when they part at the end of the trip.
Raj is aware of Simran's pre-planned marriage and feels there is no hope. Simran confides in her mother about her feelings for Raj. She tells her that she can't see life without him. Chaudhry overhears the conversation and gets furious. He makes an impulsive decision to leave for Punjab overnight. Meanwhile Raj is motivated by none other than his father, who tells him that if he truly loves Simran, he has to go and get her.
The second half of the film takes us to Punjab, to Chaudhry's entire family. A family that consists of his mother (Achla Sachdev), his brother (Lalit Tiwari), his unmarried sister (Himani Shivpuri) and his best friend Ajit Singh (Satish Shah). In search of Simran, Raj lands up in Punjab. Does Raj manage to win over the entire family? Does he manage to win over Chaudhry Baldev Singh? And does he finally manage to take his 'dulhan' (bride) away?
Just reading that takes you back doesn't it? Now read on to see why we fell and are still in love with DDLJ!
Some memories: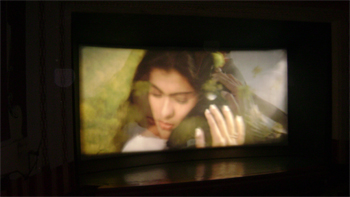 Steven was lucky enough to see the film where it is still playing today, Maratha Mandir, and said: The only place to watch the YRF project is, of course, the Maratha Mandir cinema. I found watching these two icons of Hindi film in a Bombay temple of cinema, almost akin to darshan.
Janine: As a young film enthusiast in my native Scotland, I had barely been aware of the Hindi film industry and the films which it produced.  After my move away from the countryside of the north and ventured to Edinburgh I was exposed to a culture I wanted to know more about.  Viewing DDLJ was an education like no other! 
Stacey: DDLJ was actually the first Bollywood movie I ever saw, I loved it from the very beginning but I remember calling my husband half way through the film and saying, "I have found the perfect movie". I still think that today and can watch it any time it is on and many times I get out my DDLJ DVD to fall in love again.
Sheetal had quite a bit to say on the subject of why DDLJ is so amazing and we agree with every point!
She says, I love the whole movie and singling out one bit is not fair to DDLJ or as I like to say, the holy grail of Indian Cinema. It is a complete entertainer in true Bollywood spirit. Here's why:
• It is a love story of epic proportions yet has the fun and charm of a romantic comedy.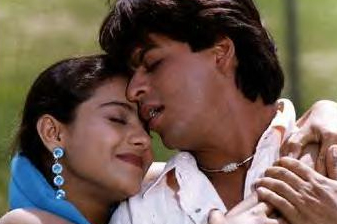 • It is a compelling family drama that spans two generations and two continents. What makes the family drama portions of the movie a pleasure to watch are the brilliantly written relationships that illustrate the trust people put in family, how each member is bound to family, often to their detriment, in terms of love, awe and fear. Personally, I loved the the dichotomy between Kher's character and Puri's character, two very different kinds of Dads but who ultimately brought up two doting kids, who would willingly lay their lives on the line for their fathers.
• It has action, albeit momentarily, fuelling the intense climax, showing the audience the lead character's breaking point (because through out the movie one thinks nothing can phase Raj) and in doing so showing real faces of the other characters.
• It has beautiful song and dance routines. Tujhe Dekha is essentially a love anthem of the DDLJ generation while Mere Khawbon Mein Jo Aaye speaks the mind of every girl who has ever dreamt of finding love. That being said, the remaining songs are masterpieces as well. My personal favourite to Ho Gaya Hai Tujhko To Pyaar Sajana.
• It's a journey movie, about discovering new worlds and in doing so discovering yourself and those that you travel with. As a consequence it showcases Europe, London and India in all its oomph and glory, so the film's also a visual delight.
• It is also socially relevant in that it tells audiences to see beyond first impressions, question blind faith and give things a fighting chance.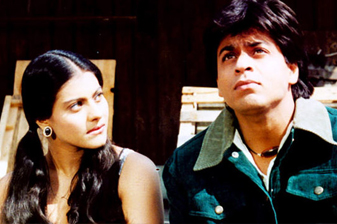 • It has sound-proof casting down to the very last extra with every single performance, whether is be the protagonist SRK or the brief appearance of Mandira Bedi, worthy of standing ovations.
• Lastly, on a personal note, for a cynic like me, who takes everything with a pinch of salt, it makes me want to fall in love every time I see it. In this way it lives up to its mission statement: Come fall in love.   
With (for the lack of a better word) such awesomeness in its every nook and cranny, it is no surprise that DDLJ is the longest running film of Indian Cinema.
Mahak has just one more to add to that: I loved the father daughter relationship in the movie.  Late Amrish Puri and Kajol made it look so alive. 
Steven was also lucky to interview Yash Chopra, click here to have a listen as he talks about the film!
Let's take a look at some of our favorite scenes: This is by no means a full list but we had to limit it a bit or we would just put every scene down!
Steven's favourite scene in DDLJ occurs when Shah Rukh Khan and Kajol's characters encounter each other as their train pulls out of London's Kings Cross Station. The energy and vibrancy of the sequence as Raj pulls Simran onboard, is incredibly cinematic. When studying Indian Cinema in the UK, I lived just around the corner from the location, so walking through the station would typically induce hazy, filmic fantasy.
For Janine this is comedy at its best
httpvh://www.youtube.com/watch?v=qu4NrZxypIQ&feature=related
For Charla the scene on the bridge where SRK says he loves her and then bursts out laughing is one of her favorites. That scene starts off really emotional, and you indeed feel that he is confessing his love. but then even though he says it's a joke, the conversation takes a serious turn and he asks he what she would do if she fell in love…
The moment she walks away and he is just waiting, waiting for her to turn around saying "Palat palat"…that is outstanding. When she turns and looks at him it is beautiful. As you know this is only the beginning. 
There is one scene that made Stacey fall in filmi love with Shah Rukh Khan and which Bhargavi calls the perfect 'awww' moment. It is the moment in the train station right after Simran invites Raj to her wedding, She says you will come. He says not a word. He just looks at her, and in his eyes is 'think Simran, see me, I love you' and so much more, and the whole audience sighs. He walks away, finally Simran realises and we are on our way to the happy ending!
 
httpvh://www.youtube.com/watch?v=bfvqy1ZjxIs
Of course then there is the iconic scene of the echoing mandolin and Simran running to Raj through the mustard field. This is another perfect moment in a film full of perfect moments. Sing with me Tujhe Dekha To Yeh Jaana Sanam Pyar Hota Hai Deewana Sanam
Charla also love the scene when Simran's mum is telling Raj to elope with her daughter, and he tells her there is no way he is doing that. In fact, that scene always makes Charla cry!
Here are a couple, well okay, a few more!
When they are playing that singing game and SRK ends up holding Priti's hand is so funny!
When Kajol is stopped by the police on the way to Zurich. SRK comes to her rescue… His words 'Main Raj Malhotro and yeh Raj Malhotri' and 'Kutto, Saalo, Kameeno.. Bon jovi Bon jovi' 🙂
The scene with Raj saying: "pyaar karti ho mujse?" Simran: "sabse zyaada.." Raj: "bharosa hai mujpe?" Simran: "khud se zyaada"
Trupti loves the whole train scene at the end when SRK is leaving and Kajol is begging Amrish Puri to let her go and he does with a "Jaa Simran jaa… Jee le apni zindagi" Epic!
Of course everyone loves the HAPPY ENDING and once more we hear the Bade bade deshon mein, aisi choti choti baatein hoti rahti hain.
All we can say is Dilwale Dulhania Le Jayenge play on!
As you can tell, we sort of think DDLJ Rocks. We would love to know what you love about the film so leave us a comment!
With contributions by: Stacey Yount, Trupti Kantilal, Steven Baker, Bhargavi Sameeran, Sheetal Tiwari, Charla Manohar, Janine Gall, Mahak Dawan