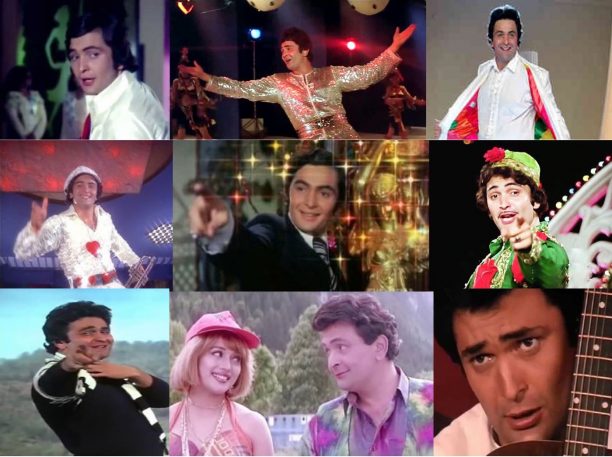 While it is known that everyone has a time, nothing prepares us for losing those who are family and those who we have come to admire. While he may have been a bigger name even before I was born the name of Rishi Kapoor was an inheritance from my parents, who they themselves grew up in cinema halls watching his films and passing those memories onto me by showing me those films in whatever the technology of the time. For me, Rishi Kapoor was not the first dancing star, but he was the first to make it important for the hero to be able to dance.
Dev Anand, Dilip Kumar and his own father Raj Kapoor were kings of their time, acting in great films that all seemed to have at least one great song. Many of these won awards for their music, for their lyrics, but rarely won for their dances as these actors placed more importance into their dialogues then the songs that interjected. Rishi Kapoor, along with older brother Shammi Kapoor flipped this on its head, making the songs the centrepiece of Bollywood fashion, style and sound. So here I would like to remember the late Rishi Kapoor with 10 songs that hopefully give a reasonable flavour to his greatness.
'Main Shayar to Nahin' (Bobby) – 1973

Strictly speaking, I am starting my list with a song in which there is next to no dancing from Rishi Kapoor. The setting is a house party in an expansive bungalow with enough space for Aruna Irani to twirl in. The image of glamour and gold is overtaken by the face of the young Dimple Kapadia, both being introduced in this film as hero and heroine. The singer is Shailendra Singh, a voice not often used for Rishi Kapoor but a hit every time it was. Listen to the song, fall for the simple clip but most of all be lost in the words: a picture of what was to come.
'Humne Tumko Dekha' (Khel Khel Mein) – 1975

2 years on an already another 4 films in the belt, this is the first film with his wife Neetu Singh. This is another Shailendra Singh's song and another hit, but its stuck in the middle of an album full of hits. A little of the movement he would become famous for is clear in this clip, although being a small stage at what might be a community hall or a school hall, he cannot be blamed for not going all out. Look out for Rakesh Roshan looking like Hrithik in the wings and an early bit of chemistry between the onscreen and offscreen lovers.
'Parda Hai' (Amar Akbar Anthony) – 1977

Not being afraid to go down classical routes, the character of Akbar Ali of 3 brothers played by Vinod Khanna, Rishi Kapoor and Amitabh, allows Rishi Kapoor to flex a bit of qawwali in Mohammad Rafi's iconic voice. This is an exceptionally long song and Neetu Singh is in a see-through veil but allow the colours and sounds to wash over you. Even on his knees his body is always moving, entertaining the audience while his eyes find the only one he wants.
'Bachna Ae Haseeno' (Hum Kisise Kum Nahin) – 1977

There is no way to do a Rishi Kapoor list without this song… while it took till 1977 to come out, if there could be a signature song for an actor, this is Rishi Kapoor's. The evidence of this is in Ranbir's early film of the same name, in which the title mixes old and new… Vishal/Shekhar used Sumeet Kumar to authentically blend 1977 with 2008. While Ranbir is a superior dancer and has the club beats to back him up, RD Burman and Kishore Kumar were not far behind with a big band jazz and rock fusion and that iconic trumpet in Rishi Kapoor's hands. Rishi's costume is brighter, being literally covered in glistening bits and the bigger stage allows Rishi to strut his stuff.
'Om Shanti Om' (Karz) – 1980

Often, I do not repeat songs in my listings because in 89 years of Bollywood, there are something like 50k songs to choose from. Especially when referencing someone like Rishi Kapoor, the list is still impressively massive. Karz was a romantic thriller, with a reincarnation twist and Simi Garewal as the villainess. Of course, all the songs were a hit and I am sure other songs from this film have appeared in other similar lists. While Bachna Ae Haseeno is signature Rishi Kapoor, him walking/dancing on a giant LP disc singing about love in Kishore Kumar's voice is iconic Rishi Kapoor.

'Hoga Tumse Pyara Kaun' (Zamaane Ko Dikhana Hai) – 1982
Y
I had to include this one because its my personal favourite… that guitar, Shailendra Singh and the lyrics have often made a long train trip shorter. This song is 1982's version of Chaiyya Chaiyya and while there certainly isn't much in terms of dance, standing on top of a train does allow some leeway in that. Sure, there is a mixture of studio and real shots, but you would not expect the superstar Rishi Kapoor to be dancing in circles on top of a train! This song often gets pointed out as RD Burman's genius and it certainly is that, but the most remembered songs are still remembered for their actors onscreen.
'Chehra Hai Ya Chand' (Saagar) – 1985

12 years have passed, so many films completed and those who remember Bobby finally got a chance to see one of their favourite couples together onscreen again. South superstar Kamal Hassan completes a love triangle with a couple of great songs of his own (using this film as a launch point for a successful career in Bollywood too), but this is Rishi and Dimple. RD Burman brought Kishore Kumar and that guitar, this time directly in the hands of Rishi Kapoor and instantly gave the world one of the most mesmerising tunes as each stare into each other's eyes. "Saagar jaisi aakhon wali, yeh to bata tera naam hai kya"… the lyrics weren't far behind either!!
'Sochenge Tumhe Pyar' (Deewana) – 1992

Quite often people forget that Rishi Kapoor was the hero of this film, as so much of it centres around anti-hero and newcomer Shah Rukh Khan and leading lady the late Diyva Bharti. But this song should put any illusions on the matter to rest. Even in 1992, by now having been nearly 40 years in the industry, his feet as nimble as ever and that face as much a picture of a superstar as it ever was. Kishore Kumar having passed, Kumar Sanu was the man for this song and its as if the voice were made for Rishi Kapoor and him alone.
'Rabi Re Rali' (Yaarana) – 1995

Yaarana is often remembered for Madhuri Dixit's Mera Piya Ghar Aaya for good reasons but Rishi Kapoor was still this film's male lead. Having now been an actor for 40 years, there was talk of him being past his prime and younger actors did seem to have better physiques. This certainly didn't stop him jumping around in a park by a lake somewhere in Europe, as he moves together with Madhuri, playing as her alter ego "Kavita… Kavita Krishnamurthy"… who sings all the songs in this film for Madhuri.
'Ek Sher Tha' (Raju Chacha) – 2000

I am concluding the list with Rishi Kapoor starting the 21st century taking on more mature roles, here as father to 3 small children; their mother having passed away. In this song he learns to bring them up but is in no way a back seat to other characters in this story. Even though this is a cameo role, his input in this film is absolutely a necessity, showing off his song talents, as well as what made him such a great actor for so many years.
How many of us can claim that we or our parents were relevant in their industries from 1955 to 2019? Rishi Kapoor was a known great even to the last, having started as a child star under his illustrious father. And having outlasted his two just as famous brothers in the industry, he still found a space that he not only made his own but expanded it for others to follow in his path. His work will undoubtedly live on whenever we see his son Ranbir continuing down the family line. RIP, the late Rishi Kapoor.