Long before Shah Rukh wiggled his eyebrows and raised his arms for a hug, and well before Salman built that body, there was the inimitable Rajesh Khanna. If the late 70s were Amitabh Bachchan's one man industry, then the early 70s were Rajesh's domain. Truly, the era of the first superstars in Hindi cinema has come to an end when Khanna passed away this past Wednesday.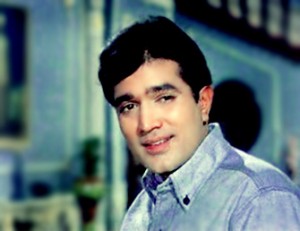 Often called the Prince of Romance, Khanna offered up a gentler and tender side to romance that is sorely missed in today's era. Born as Jatin Khanna on December 29th 1942, he was a keen lover of films since an early age. His rise to the top also seems like a struggler's dream, as he was picked from thousands of applicants from the All India Talent Contest. It's easy to see why. That twinkle in his eye, the tilted head, and that lovely voice, all of which have been parodied around, but there was something in those mannerisms was so arresting. Rajesh Khanna cracked the big league with his double role in Aradhana. Paired with Sharmila Tagore, in one of the best jodis of all time, Khanna created a persona that would define many heroes to come. In fact, he was the first actor to become a superstar and a true phenomenon with this film.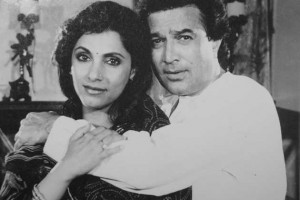 He was sensitive, shy, and soft-spoken, which set him apart from the Raj Kapoor, Dev Anand, and Dilip Kumar triumvirate. That trio had their own brigade of fans, who probably did send them flowers and gifts. Yet with Rajesh, his romantic persona was one that sent women of all ages wild with desire. If he's called the original superstar, then it's for a reason, Khanna had that certain je ne sais quoi that clicked with audiences during his 6-year reign. Showering his car with kisses; writing letters in blood, sending overflowing bouquets to his house, mobbing him wherever he went, fans just could not get enough of their hero. When he married Dimple Kapadia, there were stories of women committing suicide due to this gorgeous hunk tying the knot. Celebrity culture and superstar worship truly flourished when Rajesh during his heyday. He had enough off-screen drama to fill tons of gossip papers, and enough likeability to keep the audience hooked. Khanna was shrewd about his career and persona, and he made sure he was on top of his game during his reign.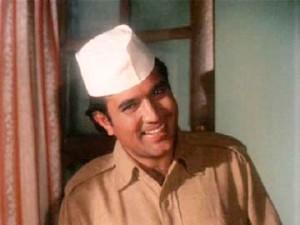 He had that everyman charm that perhaps the trio were lacking. Raj Kapoor's Raju was a bit of a bumpkin, Anand was a stylish cad, and Kumar had a grave intensity to every tragic hero he played. Khanna was a hero who was an all-rounder. He could play both a cook in Bawarchi and a stylish charmer in Andaaz. Fans could relate to this hero, because he was so likable and charming in each role, while facing romantic and social upheavals. It's a testament to his fabulous acting skills that although he did that crinkle with his eyes in film after film, he kept us invested in his character and as a superstar.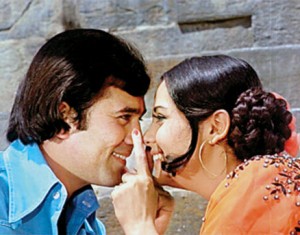 In Amar Prem, he proved that he could do more than just rely on mannerisms to act, and make us empathize with the heartbroken Anand. He could pull at our heartstrings even in Aap Ki Kasam in his jealous husband role. Khanna took also quite a few risks with his movie choices with the intense role in Ittefaq that made us all love him with a stubble and grizzled manner. Even sharing screen time with an elephant in Haathi Mere Saathi, Khanna looked like he was having fun. With each unconventional role he chose, there were lots of romances to fall back on. His pairings with Mumtaz, Asha Parekh, and Sharmila Tagore became iconic and got the audiences packed into cinemas. His chemistry with Tagore was best epitomized with the gorgeous song 'Roop Tera Mastana', which was filmed in one long tracking shot as the two lovers try to fight off temptation with a thundery storm brewing outside. The way that Khanna looks at Tagore is just so sexy, no wonder girls went crazy over him! With Mumtaz and Asha Parekh, Khanna had a more tender and fun chemistry. In Kati Patang, Khanna and Parekh's slow courtship is so sweet and wonderful. With Mumtaz, Khanna had a partner who could match up to his charm offensive, and the camaraderie really comes through in many of their films together. It helps that this superstar came with a singer like Kishore Kumar to complete that romantic persona that he specially crafted and unleashed on the adoring public.
httpvh://www.youtube.com/watch?v=ppFmipV6KZc
Khanna's reign at the top started to diminish around the time that the Angry Young Man came into vogue, as personified by his co-star Amitabh Bachchan. Bachchan and Khanna made two classic films together, Anand where Khanna's cheery character shone through, and Namak Haraam, where Bachchan revealed his intensity and powerhouse talent. These two films are two products of time, where the changing of the guard would soon happen. Bachchan soon eclipsed Khanna in the latter half of the 70s. Yet Khanna was always willing to share the screen with talented actors, who might outperform him like Vinod Khanna, Sanjeev Kumar, Amitabh Bachchan, and so many others. However, in his willingness to keep up with the other angrier heroes, his characters started doing a bit more dishoom-dishoom, while trying to balance all the romance too. With this downward slope, out came the stories of his arrogance, alienating those near to him, and a loss of perspective. Every superstar has a time to cool off, but Khanna's output may have been less than memorable but he still kept going despite the fans flocking to see a grittier hero with little time to romance. Overdoing those mannerisms and working in subpar films made his career implosion a lot more disheartening. His films in the latter part of his career may have flowed into one, but there were flashes of the hero we all loved taking a chance on a role like Avtaar or Agar Tum Na Hote.
With Khanna's passing, we have truly lost a hero who set the bar for the masala heroes we have today. Shah Rukh's persistent charms in romantic films, Salman's masala man appeal, owe a lot to Rajesh Khanna's universal and accessible hero persona. There will be constant reinventions of the hero type, but there will only be one hero that made us swoon as he cried and crinkled his eyes, Rajesh Khanna.
httpvh://www.youtube.com/watch?v=YN0WIihPuZw