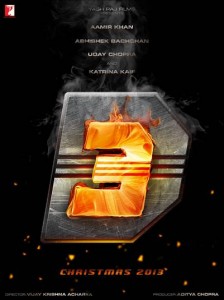 Aamir Khan is very excited for Christmas to get here this year! Why, you may ask. Well, that is because his new film Dhoom3 is set to hit theaters! In the third installment of the cool franchise, Aamir plays the bad guy to Abhishek Bachchan and Uday Chopra's good cops. Also joining in the fun is Katrina Kaif in the film directed by Vijay Krishna Acharya!
Aamir recently saw the final reels and took to Facebook to talk about the film, "Guys… I just finished seeing the final cut of D3… and I cannot wait for y'all to watch it… Suddenly Christmas seems too far away!!!"
We agree Mr. Khan We agree!
Stay tuned we will be bringing you all the Dhoom 3 scoop!