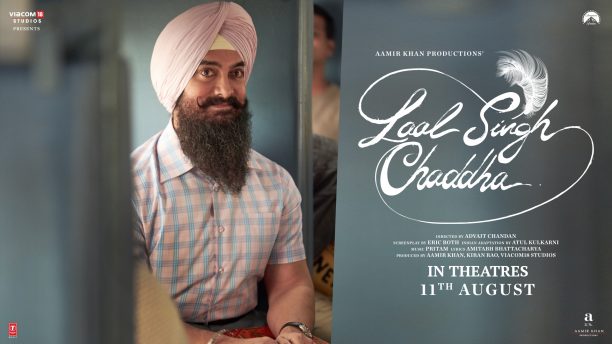 Aamir Khan once again proves what an extraordinary talent he is with his complete transformation in Laal Singh Chaddha. He is outstanding in just over two and a half minutes of the trailer. Co-star Kareena Kapoor Khan is also brilliant in the sneak peek of her character in the film. Releasing on August 11th worldwide, the film is directed by Advait Chandan (Secret Superstar) and stars Mona Singh and Chaitanya Akkineni.
Check out the fantastic trailer of Laal Singh Chaddha, which takes the audience on an emotional and spellbinding ride giving us a glimpse into the fascinating and innocent world of Laal Singh Chaddha.
Laal Singh Chaddha is a tale of a simple man whose extraordinary journey will fill you with love, warmth, and happiness and make you laugh!
Aamir discussed this Indian adaptation of Forrest Gump, written by Atul Kulkarni, in an earlier interview with PTI, "During the shoot of Rang De Basanti, he had shared that the Forest Gump is one of his favorite movies. Atul approached me with an adaptation script later on, but I did not take him seriously. I read the script after two and a half years and loved it."
Atul Kulkarni, who has been working on this for a long time, earlier revealed, "Patience plays an important role in creativity and in everyday life. Laal Singh Chaddha taught Aamir and me a lot of patience in terms of work. Now that we are coming with the movie on August 11th, we are excited to see how the audience will respond to our efforts.
Aamir Khan added, "I have always loved Forrest Gump as a script. It is a wonderful story about this character. It is a life-affirming story. It is a feel-good film. It is a film for the whole family."​
Earlier the lyrical videos for two of the, we think, absolutely incredible songs from Laal Singh Chaddha were released as teasers. Composed by the great Pritam, 'Kahani' sung by Mohan Kannan is said to be the soul of the film and the love song 'Main Ki Karan?' voiced by Sonu Nigam and Romy. We are eager to see the full song videos and the rest of the songs! Especially within the film!
By the way, Laal Singh Chaddha was filmed over 200 days and has been shot 100 plus locations!
We can't wait to watch Laal Singh Chaddha play out on the big screen.
We will be sure to bring you all the scoop on this exciting film!
Seriously is it August 11th YET????