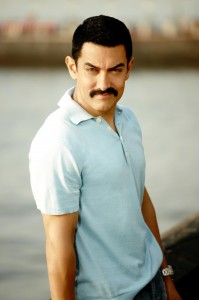 From Amitabh Bachchan, Shah Rukh Khan to Sanjay Dutt and Salman Khan to Preity Zinta, Hrithik Roshan and Madhuri Dixit, all have made their presence felt on TV in many different types of shows. Now Mr. Perfectionist is joining the crowd and has finally bowed to the small screen. Aamir Khan will now appear on television in a show about India and it's stories. The actor's production company Aamir Khan Productions will co-produce the show with Star India.
Though he is one of the last from Bollywood to anchor a show, Aamir doesn't feel he makes a late entry. "I do not think my entry on television is late. I feel everything has a right time. My venture into television is not calculative. There is nervousness, but I am excited and charged up about the show. I was sure that if I would do something on television then it has to be different…it has to be something that will connect with the audience."
This show will showcase real stories, real lives and real emotions. "Over the last few years I have often been approached with various television shows. But none of those that were offered to me, really excited me. I want it to be an enriching experience, for me and for my audience. This is not just a show for me, it's a journey. A journey of discovery, of change, of emotions, of human stories which touch and inspire us. My dream is to impact lives", Aamir reveals.
Aamir confesses he doesn't know much about television but is convinced that this lack of knowledge could also work to his advantage as he likes to do things his way. "I am sure I will face difficulties when it comes to television…It is a field I know very little about. Fortunately, the people I am interacting with are very bright minded. So I am getting to learn every day. I am trying to absorb as much as I can. There are some advantages for me and some disadvantages. Disadvantage is that I don't know much about TV industry, I lack in terms of knowledge. And the advantage is that because I don't know much, I tend to do things my way, which sometimes surprise these people and they say 'aisa to hota nai hai yahaan', then I cross question them, 'ki kyu nahi hota?'."
The production of the yet-untitled show will start early next year, so why make an announcement now? According to Aamir it was best to make an early announcement to put speculation at rest. "A lot of rumours were coming up for some time now; so we thought we should put these speculation to rest. We made the announcement without a fixed date so we could at least give a brief insight to people as to what the show is going to be like."
Well, we are excited to know how this show will turn out. Just keep a close eye on BollySpice.com as we will bring you all the latest news regarding Aamir's new show.