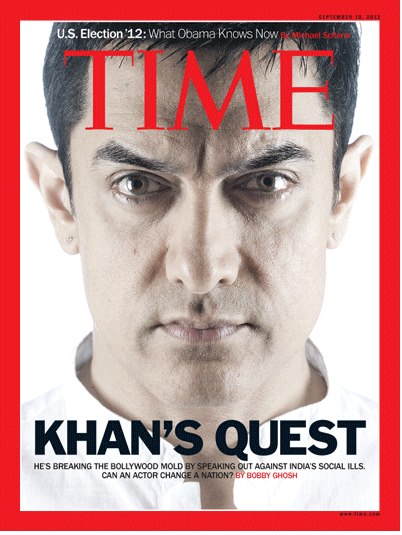 Aamir Khan has become the second male Bollywood actor to grace the cover of Asia's edition of the prestigious Time magazine. He is the fourth Bollywood actor to do so after Parveen Babi who appeared in 1976 and Aishwarya Rai Bachchan, who landed the opportunity in 2003. This is no doubt a remarkable achievement for Khan! It is due to the overwhelming response which he has received so far for his monumental television show Satyamev Jayate (The Truth Alone Prevails) which has played a fundamental role in him being asked to pose for Time magazine. Time's Bobby Ghosh has orchestrated the project and also wrote the blurb for the cover which reads as follows: "He's breaking the Bollywood mould by tackling India's social evils. Can one actor change a nation?"
Aamir Khan also joins a group of other prominent Indians who have appeared on the front cover of Time who include Mahatma Gandhi and Sachin Tendulkar. Khan's decision to produce and present a television show which focuses on publicly addressing the various social issues India is facing and how to tackle them has resulted in him attaining national and global admiration. He abandoned the idea of presenting a mainstream commercial game show or celebrity chat show in order to expose social issues such as female foeticide, the caste system and alcoholism. This was definitely a bold and courageous move on Khan's part and he highly deserves the rewards he is receiving for his humanitarian work. He chose not to do projects which would attempt to consolidate his superstar status. Instead, Khan has utilised the superstar status which he already possesses in order to try and enforce radical social change in India and help other human beings. This no doubt makes you feel like patting Khan on the back and telling him what a great job he is doing!
The Asia edition of Time magazine featuring Khan is available from 10th September 2012.