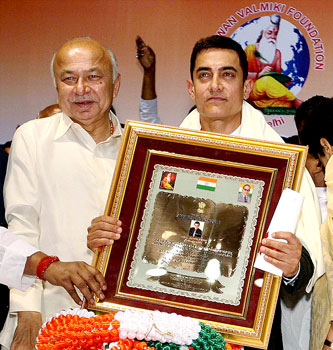 Satyamev Jayate had everything in it to gain popularity with its aim to spread social awareness. And on Thursday, Aamir Khan and Star's CEO Uday Shankar were honoured by the National Commission for Scheduled Castes (NCSC) in Delhi for their reality show Sataymev Jayate, which brought social issues to light and helped spread awareness about them. They also highlighted their contribution to the issue of untouchability on International Valmiki Day at a function.
Aamir was very happy and proud to be able to receive such an honour and said that this is not just for him but his entire team of Satyamev Jayate who worked very hard to bring social issues to everyone's notice. "My whole motive in making Satyamev Jayate happen was to talk about issues that are otherwise never spoken about on public platforms and to make people believe that it is important for us to start eradicating these prevailing issues. Even after 65 years of independence, social discrimination is still a very important part of our society which is very sad," he said.
Aamir Khan raised issues like dowry, which people are aware of but still exists. He raised the issue of the manual scavengers and how they are still considered to be untouchables. "People told me I am involving myself in legal problems and I may be charged for this but I did not think about all that. In fact, the response encouraged me as I received abundant emails from a lot of youngsters who said they wanted to take initiatives and change things for the better," he added.
CEO Uday Shankar was also overwhelmed with the honour. "People believe that television is for entertainment, but we believed that spreading awareness through television would be the best thing to do as people would follow it and react to it as well. We hoped it will help change a lot of views," he said.
Udit Narayan, who has sung some of Aamir's songs like 'Papa Kehte Hain' and 'Mitwa' was also present at the function. Several leaders including union Home Minister Sushil Kumar Shinde, social justice and empowerment Minister Mukul Wasnik, information and Broadcasting Minister Ambika Soni, Delhi chief minister Sheila Dikshit, and NCSC chairman P.L. Punia attended the awards function.
Aamir was recently on the cover page of the Asia edition of the Time magazine. His picture was titled-"Khan's Quest – 'He is breaking the Bollywood mould by tackling India's social evils. Can an actor change a nation?"