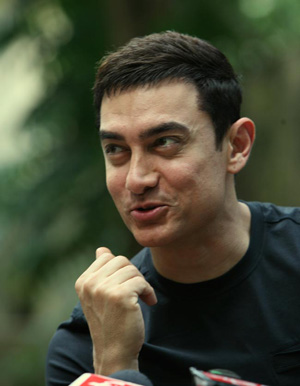 Aamir Khan is no doubt in a good mood as the response towards his latest film Talaash has been very positive throughout. Most of the critics share similar thoughts on Talaash, which also stars Kareena Kapoor and Rani Mukerji in pivotal roles. They all agree that it is a rare and unconventional form of cinema that has been brought to the world's attention, with three superstars headlining it and delivering astounding performances. The film has also done brilliantly at the box office, collecting over RS. 67 Crores during its first week of release, according to trade experts.
In a statement to the Indian media, Aamir expressed his joy regarding the success of Talaash and had this to say. "I am really happy that the film is being received well by the audience and the box office collections it has been making. The opening weekend of the film went really well and even on Monday the film made great collection." "The reaction from the majority of the audience that I have been getting matches my emotions when I first read the script. So, I am really very happy with that."
The film has managed to fully recover its costs and as a result, Aamir is thinking about organising a party for the entire cast and crew to celebrate Talaash's success and the hard work that has been put into it. "We would love to have a success party and I think the entire team deserves that. I will speak to Ritesh (Sidhwani), the co-producer of the film, to organise a party. People have put in a lot of effort in this film, we should celebrate now."
Talaash is in cinemas worldwide so check it out if you want to see what all the fuss is about!