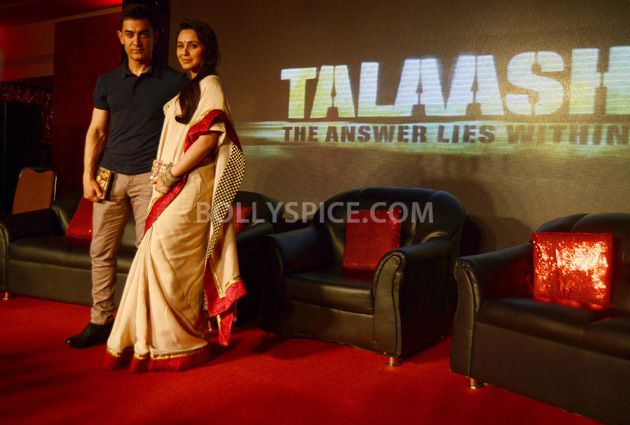 Talaash is one of the most awaited films of the year. So when the cast and crew got together for the music release, the media bombarded them with questions about the film. The music release was attended by Aamir Khan, Rani Mukherji, Farhan Akhtar, Ritesh Sidhwani, Reema Kagti, Javed Akhtar, Zoya Akhtar, Ram Sampath, and Bhushan Kumar.
Held at the Tulip Star Hotel, Juhu, Mumbai on October 18th, the music launch was full on Talaash, in mood, looks and of course the music. The venue was made to look like Hotel Lido which is one of the notorious hotels that Aamir Khan's character goes to in the film. Apparently the hotel is almost like a key character in the film. With a key eye to detail the hotel was re-created spectacularly. Even the bouncers had gold chains around their neck, and all the tables had what in Indian colloquial terminology, is called 'chakna'. The lights were all dim and red, and the music reminded one of Mumbai's underbelly.
The event started with the showing of the trailer, then three of the main song promos were shown first up was 'Muskaane Jhoothi Hain' where the entire cast of the film comes together in one single video, next was 'Jee Le Zaara' which is a song picturised with Aamir and Rani, and the last in line was 'Jeeya Lage Na' picturised with Aamir and Kareena. All the songs and the trailer received a very good response from the audience and the people were immediately impressed by the imagery, music and visuals of the film.
Music director of the film Ram Sampath got a hug from Aamir Khan, who had spoken highly of him for his memorable work in the off beat hit film Delhi Belly, which Aamir Khan produced.
Actor Aamir Khan revealed that the film is not a thriller, which everyone thought it was. "Talaash is a suspense drama, but there is also a lot of emotion attached to it." Director Reema Kagti adds that 'the story is based on an Urban Legend'. "And we cannot reveal more than that", says Aamir. "I hope you all will like it, as much as I did when the story was narrated to me, when it releases."
Adding, "This is not an out and out entertainer, but I liked it. It is dark, intense and edgy. After a long time people will get to see suspense drama in Hindi films."
After Sarfarosh Aamir will once again be seen in the role of a cop. Luckily for him, he didn't have to do much research on the role. The 47-year old says there was some research done on clothing and the look to keep it as real as possible, but the research for the role was minimal.
He adds that no role is easy for him. "For me every role is difficult. I hope to get into the skin of the character and get to understand him fully."
He says it is the cast that is the strength of the film, "The way the characters have been written make them all very important."
The perfectionist tells all about working with a female director. "For me it's totally irrelevant whether the director is a male or female. That doesn't matter. What matters to me how good the director is and how comfortable I am working with her."
"My experience of working with Reema was fantastic. I really enjoyed working with her. I found that she is someone who is very clear on what she wants. She is extremely perceptive of performances and I found that as an actor, I was guided a lot by her and by the observations that she made when she saw me doing a rehearsal. She was a big help and a big guide to me as an actor. I found her extremely open and demanding as well. And I could completely trust her instinct on the film and that means a lot to me, so I thank Reema for that."
For director Reema it was a dream cast. "For me, it was a dream working with Aamir, Kareena, Rani and Nawazuddin." Aamir is known to give many creative inputs to the director and with Reema this was no different. But that is something that she really appreciated. "I always found him to be extremely respectful of my vision for the film and at any given point he was trying to bring out the best. He understood what I was trying to do and he was trying to make that happen. So a big thank you to Aamir for that."
And regarding Rani and Kareena, The Honeymoon Travels Pvt. Ltd. director says: "They have way more experience than me but both of them were very kind to let me direct them."
Talaash is planned for a release on November 30th, so there is still one and a half month of promotions to look forward to. Aamir Khan is known to come up with different styles of marketing and promotions for all his films. So what does he have planned fort his film? "I am going to disappear and you guys can look for me, I hope", he says with a smile.