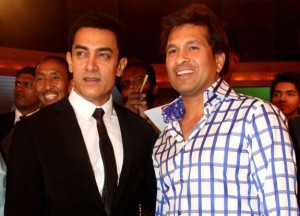 Indian cricket and Bollywood share several attributes in common. Both stir the emotions of their countless devout fans. Both are regarded as integral to South Asian culture. Both are the heart, pride and soul of South Asia.
Therefore, it is only fitting that with the retirement of legendary Indian Cricketer Sachin Tendulkar, a Bollywood song has been dedicated to him.
The special song doing the honours is 'Dhoom Machale' – the title track of Aditya Chopra's forthcoming Dhoom 3 starring Katrina Kaif, Aamir Khan, Abhishek Bachchan and Uday Chopra in the lead roles.
Aamir Khan, a close friend of Tendulkar's, explained the symbolism of dedicating 'Dhoom Machale' to the cricket legend. According to IBN Live, Khan stated:
"Through his entire career he has created 'Dhoom' in every step, on every pitch, in every cricketing country, in every bowler's nightmare, in our hearts, in every cricket field across the world, and in the hearts of every cricket fan across the world. So, very appropriately, we humbly dedicate our song 'Dhoom machale' to the genius."
'Dhoom Machale' translates as:
Creating a blast!
Making waves!
Causing a sensation!
The phrases above describe the cricketing legend fittingly.
Sachin Tendulkar is regarded as the "greatest batsman" of his generation and holds the record of being the first player to score one hundred international centuries and the first player to score a double century during a "One day" international.
'Dhoom Machale' indeed celebrates Tendulkar's talent, achievements and contribution.
Interestingly, not only was Sachin Tendulkar's namesake a musician, but a prominent, highly successful, iconic Bollywood musician.
He was named after legendary musician S.D Burman who composed music for 100 Hindi and Bengali films, including: Guru Dutt's classical Pyaasa (1957) and Kaagaz Ke Phool (1959).
The cricket prodigy has lived up to reflect his namesake's spectacular reputation.
The world will not forget Sachin Dev Burman's contribution to Bollywood that made hearts fall in love and gave soul to Hindi films through his compositions.
Nor will the world forget Sachin Tendulkar's contribution to ensuring that the sport, which has always been more than a game, always remained that way.