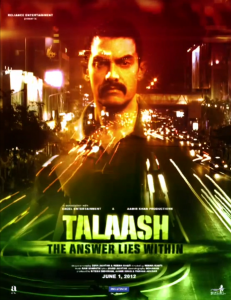 Ever since the cast of Aamir Khan, Rani Mukherjee and Kareena Kapoor was announced the buzz about Talaash has been high. Then we saw that first teaser promo and the excitement for the project got even higher. Letting us in on a bit of the story of Talaash Aamir said, "Each of the characters: Kareena, Rani and me, all three of us are in search of something." Produced by Ritesh Sidhwani, Farhan Akhtar and Aamir Khan and directed by Reema Kagti, the film is a dramatic thriller with the tag line "the answer lies within".
Talaash was scheduled to release in June but now it seems we are going to have to wait a bit longer to see the film because the release date has been pushed back until November 30th.
There has been a lot of speculation as to why the film's release date has been moved, however the answer is simple. Producer Ritesh Sidhwani took to Twitter to explain, "We have decided to move Talaash as Aamir's TV show has been postponed due to the recent Fire on his set, which is coming into our Promotion period of Talaash. Aamir needs to be around for the promotions and hence we decided to push the film down by a few months."
To hold you over until November 30th have a look at the trailer again!
httpvh://youtu.be/M97P3zoUIos