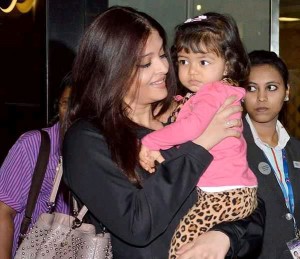 As we all know the adorable Aaradhya Bachchan is the apple of her parent's and grandparent's eyes. When it comes to work, Mom Aishwarya has always put the cute nearly-two-year-old little girl first. This past year, Aishwarya has resumed making appearances and shooting ads, much to the delight of her fans.  With appearances at special events like Cannes Film Festival, openings for Kalyan Jewellers and shooting ads for the brands she represents the actress' schedule is filling up, but Aaradhya is still first in her mom's schedule. In fact, we hear Aishwarya plans her lineup of shoots and appearances according to Aaradhya's schedule. 
Aaradhya always accompanies Aishwarya when she travels for work, but did you know that Aishwarya's mom goes with them too? Yes, Aishwarya's mom has been a pillar of strength and travels everywhere with them so when Aishwarya is completing her commitments and assignments, Aaradhya is with her grandmother.
When Aishwarya is working in Mumbai, grandmother Rai is also there to help; we have learned that Aishwarya always requests to do all shoots at Mehboob studios in Bandra. Why? Well, because it is the closest to her mother's house and that is where Aaradhya is dropped off, and Aishwarya can always hop across to check on her. Even now, Aishwarya is shooting for Kalyan Jewellers and it's is at Mehboob and Aaradhya is with her mom.
From the pictures we have gotten a glimpse of and the stories we have heard, mom and daughter certainly share an amazing bond, and we applaud Aishwarya for putting Aaradya first, even with the clamour of fans wanting to see more of the actress!
We are all waiting and watching to find out when we will see Aishwarya in a movie again. Whether it be with Daddy Abhishek or another project, we are sure it will fabulous and cannot wait!