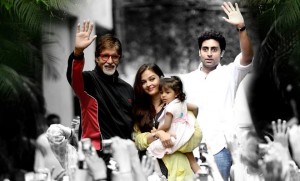 Today is esteemed actor Amitabh Bachchan's 71st birthday and you can be sure wishes for a Happy Birthday are pouring in from friends, Bollywood stars, directors and more, plus fans from all over the world. But we heard the sweetest story about a special wish that we had to share! We know this will make you AOL (Aww Out Loud).
Aishwarya taught cutie granddaughter Aaradhya how to sing Happy Birthday Daadji as a special surprise! On the stroke of midnight, the almost two year old, who Mr Bachchan calls the 'little one', sang the song perfectly for him.
Mr. Bachchan later wrote on his blog, "The 'little one' ably tutored sings a 'happy birthday' to herself first and then after suitable prompting, to me. It's these little moments that make up a birthday."
See we told you you would say awwww and probably are adding in a few cho chweets!