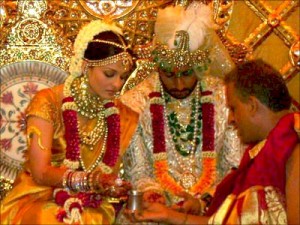 On April 20th, 2007 one of the biggest Bollywood weddings took place. Yes, of course we are talking about Abhishek and Aishwarya Bachchan's marriage! Can you believe it it has been five years since they tied the knot? Time flies! Each year for their anniversary, the couple has made a trip somewhere special, but this year they decided to stay close to home with Beti B, who is by the way is named Aaradhya!
A close friend of the couple let us in on their special night, "Every year Abhishek and Aishwarya go on a holiday for their anniversary and this year was more special because of Aaradhya. However, they decided against going somewhere because of the uncertainty in Mr. Bachchan's health, which has been going on for the last few weeks. Also because Jaya Bachchan was to be at the parliament session the next morning. However, Abhishek decided to take Aishwarya for dinner along with their close childhood buddies as she hasn't stepped out in the last 5 months except to make her professional commitments (Loreal, Longines)."
We even have some more details! The couple went to dinner but it was someplace close because Aishwarya needed to get back to Aaradhya. "On that day they barely went out for dinner for less than 2 hours to a nearby venue and were home, after which the party continued at home. Aishwarya made sure Aaradhya was asleep before she went."
In fact, the source tell us Aishwarya plans all of her professional commitments and outings around the baby's schedule. On her recent trip to Dubai she made sure that her appearance would be during Aaradhya's nap time and of course came back and checked on her during the event. All the interviews Aishwarya did there were done in a suite next to Aishwarya's so she could be there for the baby. Recently at a Lux commitment, which was in the afternoon, it was again centered around baby's sleep timings, so Aishwarya made her appearance and was back to be with Aaradhya!
We do hear that Aishwarya will be attending Cannes again this year and this time Aaradhya will be along, though at five months maybe a bit young to walk the red carpet. You can be sure that Aishwarya will, like for all her professional appearances, make sure to work around Aaradhya's schedule! Awww so sweet!