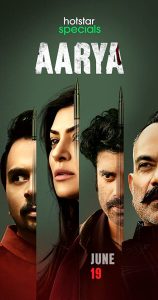 Aarya (Hotstar, 9 Episodes)
Starring Sushmita Sen, Chandrachur Singh, Ankur Bhatia, Namit Das, Sikander Kher
Directed by Ram Madhvani,Sandeep Modi, Vinod Rawat
As a bereaved wife and a protective mother who would go to any lengths for her family, Sushmita Sen towers over the proceedings as only she can. Thankfully, the series– a clever, canny altogether cool but not always crisp adaptation of the Dutch series Penoza– is a stirring enticing mixture of crime and family drama blended in a heady brew which doesn't always stand steady on its feet.
Even when the narration stumbles, there is a certain grace to the fall. Luckily even at its lowest ebb Aarya never hits the ground. Like its supremely inviolable survivor-heroine, the series keeps afloat even when it has serious length issues. I feel the same story if told in 5 instead of 9 episodes would have been much more alluring with a landscape that exuded unrest without diversions.
Some subplots such as the one featuring Aarya's wrong right-hand man Namit Das' messy home life with his punk-hairstyled wife, just seemed to be saying the same thing in different ways over and over again. The subplot about the girlfriend of Aarya's eldest being blackmailed , also keeps coming into the way of the business on hand, though into a ruinously distracting way. Another extremely sensitive subplot about Sushmita's daughter developing an unhealthy crush on her Mausi's Caucasian husband (Alexx O Neil) seemed like burdening the heroine and the plot unnecessarily when they already have so much to deal with with.
I wanted more of Sushmita 's Aarya Sareen, the devoted wife, the protective mother, the patient daughter (trying to keep her warring parents, played with wizened elan by Sohaila Kapur—an aside, she is Shekhar Kapur's sister—and Jayant Kripalani) and the clever entrepreneur saddled with the business of dealing with her husband's enemies after he's slain suddenly. As all slayings happen.
Aarya's husband's death sequence in the hospital is filmed with a remarkable grace, muting as it does, the melodrama to the minutest scale, letting the gorgeous Ms Sen preside over proceedings with a blend of bewilderment and wisdom…this is a woman who won't rest easy until her husband rests in peace.
This is a woman no man or woman would want to mess with. Sushmita Sen stands tall , quite literally, liquidating her enemies with a shrivelling glance that is something far beyond contempt. It's a look of urgent repair in a world that just won't let a happy family be. Luckily for her Sushmita has some super-efficient support from Sikandar Kher, Ankur Bhatia and Namit Das, all playing her sidekicks. Among the female supporting cast I was taken up by Sugandha Garg as a hairstylist who is cleverer than people around her think. I wanted to know about her. In Season 2 perhaps?
Welcome back, Sushmita. And see you soon again.