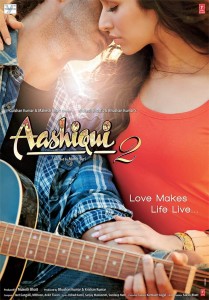 Who would have thought that Mohit Suri's Aashqui 2 would be one of the most successful films to have released so far this year. It has grossed over RS. 100 crores at the Indian box office alone and received a very good reception both by the critics and the audience. Starring Aditya Roy Kapoor and Shraddha Kapoor in the leading roles, Aashiqui 2 is a romantic drama based on an alcoholic singer who falls in love with a woman who aspired to become a singing sensation. The music has been composed by Jeet Ganguly, Mithoon and Ankit Tiwari, with lyrics from Mithoon, Sandeep Nath and Irshad Kamil. So is Aashiqui 2 worth indulging in? Let's take a look and see what it has to offer.
The first track is Tum Hi Ho, performed by Arjit Singh. The composition is superb and has a nice edge to it. Instruments such as the piano and violin have been played with extreme skill. Arjit sings this song in perfect tune and no other singer could have performed it as wonderfully as him. It is emotional to listen to, yet also entertaining at the same time. Overall, this song is a clear winner and one which you must definitely check out if you haven't yet done so. You'd be mad to not indulge in this one!
Following this, we have Sun Raha Hai (Male Version) which is sung by Ankit Tiwari. The song has a strong masculine tone to it, both in terms of vocals and the intense rock composition. Instruments such as the electric guitar and drums have been used very well in this song. Moreover, Ankit lends his voice to some nicely written lyrics and his voice gives it the edge it needs. There is also a Female Version performed by the one and only Shreya Ghoshal. This one is also enjoyable to listen to due to Shreya's angelic voice which gives it spark. Both are winning tracks that certainly deserves a listen!
Next up, we have Chahun Main Ya Naa, which is sung by Palak Muchhal and Arjit Singh. The piano has been superbly played and also gives it a smooth feel. Both Palak and Arjit deliver a great duet together in this romantic number, which again has great lyrics attached to it. The great rhythm to this song makes it memorable and it stays in your mind after having listened to it (which is what all Bollywood songs should be aiming to do). Overall, don't skip this one since it's one that will be highly appreciated.
Hum Mar Jayenge is next and has been performed by Tulsi Kumar and Arjit Singh. Though Tulsi's voice sounds slightly unconventional, it is nevertheless a catchy tune which will most likely grab your ear's attention. This song does grow on you due to its weighty romantic theme so check it out and see whether or not it touches your heart.
We also have Meri Aashiqui, which is sung by Palak Muchhal and Arjit Singh. This one is essentially a twist to 'Tum Hi Ho,' as it includes female vocals from Palak. However, it is indeed a nice twist due to the way in which the song has been arranged.
Piya Aaye Na is next and is performed by Tulsi Kumar and KK. The music is good and instruments like the guitar have been utilised to a great degree. In addition, KK's vocals are brilliant and he exudes a lot of energy in this one.
There is also Bhula De Na, sung by Mustafa Zahid. Although this male solo is not as potent in contrast to 'Tum Hi Ho,' it still has that romantic touch to it that many will appreciate. Mustafa's vocals are delightful to hear and he manages to give this song a soul.
Next is Aasan Nahin Yahan, sung by Arjit Singh. Though it's a slow song, it still has a great beat to it and instruments like the piano have been tunefully played. Arjit again strikes gold with this one and he sings with a lot of passion and enthusiasm that makes it a great listen.
Milne Hai Mujhse Aayi is next and has again been sung by Arjit Singh. Although the composition has a rhythmic element to it (and Arjit is of course as superb as ever), this one is average overall. It just did not have the same impact on me compared to all the other songs in the album. Perhaps had some tweaks been made to the musical arrangement, then perhaps it may have won me over.
Finally there is Aashiqui (The Love Theme), which is purely an instrumental with no vocals. It has been wonderfully played by Mithoon and even though there are no vocals, it still has a melancholic tone to it which will make you feel emotional.
To sum up, the soundtrack to Aashiqui 2 is an absolute treat for Bollywood lovers around the world. Though I had a mixed reaction to 'Milne Hai Mujhse Aayi,' the rest of the songs are phenomenal and have a charismatic and everlasting quality about them. Undoubtedly, this album will transform into an institutional classic over time and will be appreciated by future generations to come. Though Aashiqui will always remain a favourite for many, nevertheless, the soundtrack to its sequel is undoubtedly similar in terms of its musical quality. Hence, if I had to describe the soundtrack of Aashiqui 2 in one word; I would use the word 'breath-taking.'