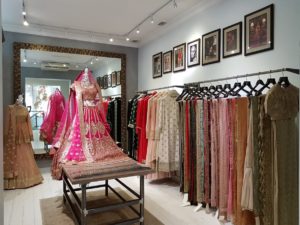 The Indian wedding industry is growing at a staggering rate of 30% and is currently valued at over £12 billion.[1] With January historically being the peak time that summer brides and grooms in the UK browse for and select their wedding attire, the AASHNI + CO Wedding Show makes a resplendent return to the UK on Sunday, 8th January 2017 at The Dorchester Hotel, Park Lane, London.
The AASHNI + CO Wedding Show spotlights the latest bridal, occasion wear and couture collections from the top tier of the Indian and Pakistani design spectrum who will descend upon London, an existing melting pot for world culture and design, to present their latest bridal and couture collections. Designers who will be showcasing their creations at the show include renowned designers such as Anamika Khanna, Anushree Reddy, Elan, Gaurav Gupta, Sabyasachi, Tarun Tahiliani, Monisha Jaising, Rimple and Harpreet Narula, Jade and ASAL by Abu Sandeep.
Since its launch in 2015, the AASHNI + CO Wedding Show has earned itself the reputation of introducing discerning wedding buyers to ensembles that are distinct and exquisite in form, whilst providing a unique shopping experience that is reframing the cultural and fashion zeitgeist of brides and grooms to be. It is the ultimate high end bridal event, recognised as an intimate platform for cutting edge, elegant designs that define London's growing market for South Asian and cross over fashion and accessories.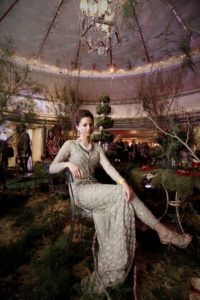 This year's event, held at the Dorchester Hotel, will give UK audiences the unique opportunity to meet the attending fashion talent, personalities in their own right across South Asia's fashion landscape.
The show will include a breath taking exhibition lined with the best national and internationally renowned creative talent from the industry with an elegant showcasing of the latest designs, highlighting the exquisitely constructed pieces and allowing the audience to truly experience the form, fit and detail of each garment.
From established A list fashion houses to rising stars and handpicked next generation talents, only the most prominent designers will be participating in the AASHNI + CO Wedding Show. They include:
Anamika Khanna – with colour, craft and texture as her forte, trousseau wear is naturally her area of specialization; her look is global with ethnic Indian craft as her mainstay.
Anushree Reddy – her label stands out for its bursts of vivacious colour, glamour, and easy-to-wear garments; her design philosophy lies in creating elaborate silhouettes brewed with subtle prints and surprising embellishments.
ASAL by Abu Sandeep – it promises to be a feast for the fashionista looking to discover and own a piece of style heaven. The finest fabrics meet exquisite craftsmanship in a heady array of sensuous silhouettes from saris and lehengas to shararas and anarkalis.  From the glitz of gota in silver and gold to multi-hued thread embroideries in the form of aromatic Persian bouquets and the glint of traditional mirror work reinvented in European abstract art deco motifs it is a smorgasbord of creativity at its finest.
Elan – respected for her combination of intricate embellishments, flattering silhouettes and attention to detail; each collection is conceived with glamour, elegance and versatility in mind.
Gaurav Gupta – creating paradigm shifts, blurring boundaries, questioning identities and norms within, deconstructing duality and flights of fantasy have always remained the plot of the Gaurav Gupta narrative.
Sabyasachi – deserts, gypsies, courtesans, antique textiles and cultural traditions of his home town, Kolkata have been a lifelong inspiration for this designer who believes that " should just be an extension of one's intellect".
Tarun Tahiliani – a brand with a view in the present moment, but, ultimately much steeped in the Indian traditions of draped form and the techniques that millions of Indian craftspeople imbibe with love.
Monisha Jaising – her colours and designs are inspired by India and her travels to exotic places; her clothes have a character that is inherent, and not defined by either local aesthetic or global trends.
Rimple and Harpreet Narula – their signature style represents an interesting paradox of rural craft and exalted design; highly distressed surface treatments are juxtaposed with fine hand embroideries and the silhouettes enhanced with a contemporary spin.
Jade – figure-flattering gowns, elegant saris, stunning anarkalis and bespoke lehengas define their collection that travel through both time and space, to present something that never was.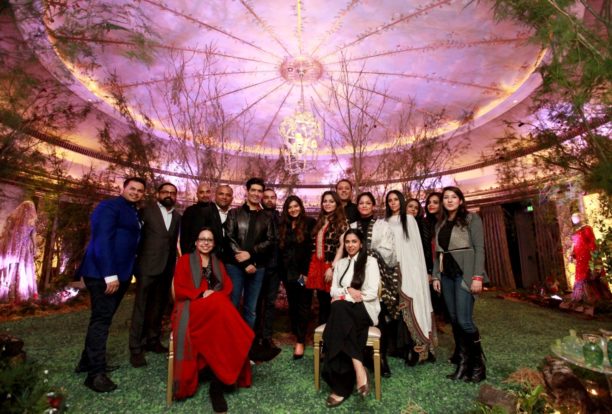 The AASHNI + CO Wedding Show has been created by Aashni Anshul Doshi, Founder and Creative Director of AASHNI + CO, a beautiful concept store in the heart of London's Notting Hill. The high end boutique was established with the purpose of providing access to visionary designers of South Asian origin for the residents of the UK. Aashni extended her retail vision to the bridal arena, to produce an uber-luxe wedding show that captured the design pulse of her clientele. She says: "My vision for the AASHNI + CO Wedding Show was to create a platform whereby the most established designers from South Asia could exhibit their luxurious designs to an exclusive, high net worth segment of the South Asian Diaspora in the UK. I could not be more excited for the wedding show this year. The level of talent and expertise that we have showcasing at the event is second to none within this sector of the industry and I can guarantee that the audience will be left in awe by the stunning designs that they will experience. There is no region in the world that creates bridal wear quite as luxurious, opulent and extravagant as this".
The AASHNI + CO Wedding Show is proudly supported by Zita Elze, Sony TV, Akshayapatra, and Hello! Pakistan.
Tickets to the event are priced at £30.00. For more information, please visit: www.wslondon.com