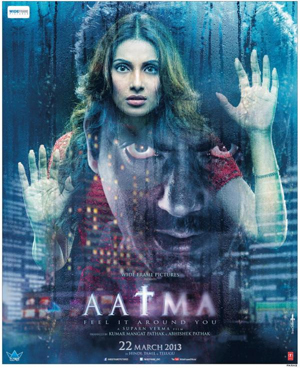 Aatma will have star Bipasha Basu and the very talented Nawazuddin Siddiqui pairing up for the first time in a film directed by Suparn Verma. It also stars Shernaz Patel and Doyel Dhawan in supporting roles and is scheduled to release in cinemas on 22 March 2013. The film is about a single mother who escapes from consistent abuse from her husband following his death. However, he returns from the dead as a spirit and possesses their daughter in order to snatch her away from her mother and bring her into the world of the dead. The music has been composed by Sangeet Haldipur and Siddharth Haldipur. The lyrics have been written by Kumaar, who has recently written songs for films such as Mere Dad Ki Maruti (2013) and I, Me Aur Mein (2013). So let's take a look and see what Aatma has to offer!
The first track is Aaja Nindiya, which is sung by Sangeet Haldipur. The composition has a very contemporary and melancholic feel to it, but it just did not win me over. The vocals are a bit sluggish, but not horrible either. Overall, with more work perhaps this song would have had a better end-result.
Following this, we have Teri Khatir, which has been performed by Suraj Jagan. This song has strong heavy metal music which has been brilliantly composed by the music director. Surja also sings this song fantastically and manages to release a lot of energy through his voice. Hence, the great music and vocals make this song a winner and I definitely recommend that you give it a listen.
Next up is Jee Le Jyada, sung by Alyssa Mendonsa, Anusha Mani, Shefali Alvares and Apeksha Dandekar. This song is a bit too 'High School Musical' in my opinion. There is a strong pop element to this song, which will appeal more to the youngsters rather than the adults. For the adults, I recommend that you try out the second version of this song which has been sung by Nikhil Paul George. Although that 'pop' element is still there, it nevertheless has a mature feel to it.
In the album, there is also an instrumental titled The Aatma – Theme. It contains the use of various instruments, with the violin dominating most of the composition. There is no real appeal to it and it is a tad depressing to listen to. Therefore, skip this one and move on as you will be wasting almost four minutes of your life listening to dull music.
Finally, we have Koi Jaagi Aankhein, which has been performed by Anahita Irani. The music has a cool jazzy tone and the vocals are quite unique and different in a positive sense. It is perhaps one of my favourite tracks in the album and one which you should certainly not miss out on hearing. Give this one a whirl and you may end up loving it!
To sum up, Aatma is an album which disappoints, but is not a complete failure. Other than 'Teri Khatir' and 'Koi Jaagi Aankhein,' there is no oomph with the other tracks that will captivate you. Therefore, it is a run-of-the-mill soundtrack which will not transform into a classic at all. Perhaps 2013 will offer us better soundtracks compared to this one.