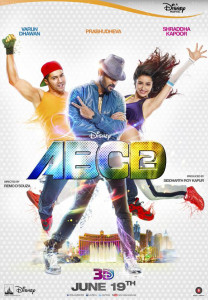 Life is all about second chances. That's the basis of ABCD 2 and a line too. To a degree you could even say that it was the same theme for ABCD as well. But what started off as an answer to the Hollywood films now has a follow up to suit. This time we have some big names to add some flourish. Disney and Siddarth Roy Kapoor in production, Sachin Jigar back in for music, Prabhudheva, Varun Dhawan, Shraddha Kapoor and Lauren Gottlieb leading the cast and burning the dance floor. Not to mention, the obvious expectation from Remo D'Souza handling the choreography and direction.
However there is also the phrase "fool me twice" and unfortunately, that's what you face with sequel to the 2013 flick. The wafer thin storyline takes a massive beating and becomes even less than that. Loosely based on an actual group of dancers who struggle to rise above their circumstance, the starting point is okay. Tushar Hiranandani was a part of the original and while it wasn't a masterpiece, it still evoked some emotion and of course there was the choreography that blew everyone away. But the story of a group dancers led by Suresh (Varun Dhawan) including Vinnie (Shraddha Kapoor) trying to clear their name of cheaters by participating in an international Hip Hop competition in Las Vegas didn't translate on screen as well as the catchy hook of Bezubaan. Sad really since everyone loves to go for the underdogs.
The sadness continue when you see the ever amazing Prabhudheva slam dunk with Happy Hour and wish like crazy the "performances" continue but those too take a hit. Granted Prabhudheva isn't known for his acting chops but having him dance would be enough for this writer to rewatch any film. Yet he doesn't entirely disappoint. Then there is Varun who has shown he hasn't got two left feet and is stretching his boundaries on the acting front too. Somehow, he seems to have slid back down the scale a little on this one. Shraddha has definitely picked up her game and kudos to her for it. Her solo is definitely a highlight and I hope she continues her improvement but it's also evident how much room there is for it. Lauren Gottlieb is always a dream to watch perform even in her small but important role.
Sachin Jigar may have brought back Bezubaan and swung into action with Happy Hour but the duo don't quite match up for the rest. Next to the choreography in a dance film, the music plays a huge role too in keeping on entertaining and you're left feeling the duo missed the shot as you walk away with very little on that front. Even with the choreography Remo seems a little distracted but it's his director cap that took the biggest blow.
By the time you learn the moves, figure out the story and follow the story, you have no interest invested in any aspect. A shame since the reality shows on the idiot box gives us a taste of the talent so we don't have anything to prove. Yet when it comes to penning a story revolving dance and dancers, the solid script just eludes the audience every time.
To a trained eye, it's bad when you make a mistake because it stands out and is obvious. It's worse when an untrained eye catches it too. It is sad to see non-regular movie goers who aren't used to the high standards we have come to expect from these performers also feel disappointed in the outcomes.