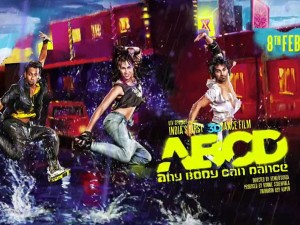 Trust dance masters Prabhu Deva and Ganesh Acharya to dance their way into our hearts. That is exactly what the ace dance gurus have done with the dance flick ABCD: Anybody Can Dance. What's more, now they hop and skip straight into your home with the release of the film's Blu-ray, DVD and VCD by Reliance Home Video & Games. ABCD: Anybody Can Dance is literally a dancing triumph for the underdog, with the theme of the film touching upon such issues as gang rivalry, drug addiction, love, and the euphoria of winning life's battles through perseverance and dedication.
Produced by UTV, ABCD: Anybody Can Dance stars Prabhu Deva and Ganesh Acharya in key roles, with participants from the popular television show Dance India Dance also shaking a leg in this film including Hollywood dance star Lauren Gottlieb of So You Think You Cand Dance and now ABCD fame. ABCD: Anybody Can Dance has been directed and choreographed by another well known choreographer Remo D'Souza. Obviously, with so many professional dancers and dance gurus, the result is pure magic, as the box-office figures proved with the film turning out to be a runaway hit when it released on February 8, 2013.
Finally after a long anticipated wait, yes dance fans and ABCD fans you can finally get your hands on a copy of the fabulous film!
ABCD: Anybody Can Dance received glowing reviews from top critics. Taran Adarsh, Bollywood Hungama, gave a thumbs-up particularly to the dance sequences, saying, "ABCD: Anybody Can Dance boasts of some spectacular dance pieces, with Remo bringing alive estimable vigor, energy and imagination on the big screen. He blends the emotional quotient with dance and music and presto! You can't take your eyes off the screen every time a dance breaks out."
The Times of India gave ABCD: Anybody Can Dance 3 stars out of 5, adding, "This movie isn't about the A-to-Z of dance; but if there's rhythm in your body this one will move you."
We here at BollySpice loved the movie saying giving in it 3.5 stars writing, "ABCD is a true-blue Bollywood entertainer. Having been a judge on a dance reality show, director Remo was understandably longing to choreograph a dance movie and he does a spectacular job at it and each piece works beautifully well."
The story of the film revolves around Vishnu (Prabhu Deva), who quits his company after having a bitter altercation with his friend and manager Jehangir Khan (Kay Kay Menon). Vishnu makes up his mind to return to his hometown Chennai, but his friend Gopi (Ganesh Acharya) persuades him to stay in Mumbai with him. Here, after witnessing some underprivileged youngsters with amazing dance skills, Vishnu decides to start his own dance group. How he transforms this motley, street smart but unsophisticated group into one of the best dancing groups forms the rest of the story.
Intriguing, riveting and entertaining would be the ideal way to describe ABCD: Anybody Can Dance. So what are you waiting for? Grab your copy of the Blu-ray (Rs 799), DVD (Rs 299) or VCD (Rs 115) at your nearest store today! Also available at Amazon.com in the US for $14.49 and on Netflix!